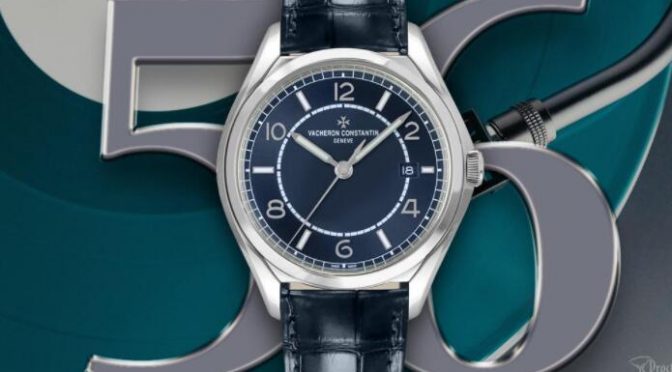 A new point of entry to owning a whole different class of luxury watches from one of the most respected names in the business.
Vacheron Constantin is one of the oldest, wisest and most revered names in the business. No other brand has operated continuously for as long as they have, nor can many watchmakers claim to have the same level of skill in high horology. Today we will explore a watch series that was created to give a new point of entry into the mystique of this extraordinary watchmaker's timepieces. Join us as we unveil the Vacheron Constantin FiftySix collection in this detailed and insightful review.
Most youngsters who are developing their appreciation for fine watchmaking can appreciate the richness of a watch from a brand like Vacheron Constantin. As one of the "Big Three" watchmakers it represents a certain status and reflects a level of achievement in one's collection to own one.
For most watch lovers, the price of any Vacheron watch, even an entry-level such as the Patrimony would be considered steeper than most other brands. However, it seems like the directors at Vacheron decided to open a small door to allow more people into the otherwise very exclusive club.
Enter the FiftySix Automatic in stainless steel with an MSRP of under $11k. It's the only current collection (aside from the cushion-shaped Quai de L'Ile collection which retails for $15k+) that uses mixed numeral and index hour markers.
This vacheron constantin 56 steel modern-day vintage-inspired timepiece has a classic look that combines a smoothly polished elegantly shaped case and lugs with gentle curves. Designed with two different chapter rings, one on the inner dial and another around the perimeter of the dial and both with railroad-style minutes and seconds track. A small, single disc date window sits comfortably at the 3 o'clock position.
A finely brushed sunray dial radiates outwards from the inner chapter ring to the ribbed outer seconds' track on the dial. This leaves a matte finished sector dial in the center. Polished numerals are used for the 12, 2, 4, 6, 8, and 10 o'clock positions with luminous index hour markers for the in-between positions. The luminous pencil-shaped hands are made of polished white gold making this stainless-steel watch even more appealing.
While this series has numerous vacheron constantin fiftysix automatic watches with more complications, for now, we'll focus on an entry-level model such as reference number 4600e/000a-b487 which has a lovely blue dial. This model comes on a matching blue alligator leather strap with a push-button deployant (folding) buckle. The clasp is designed to look like half of the heraldic Maltese cross, the same cross that Vacheron Constantin uses in their logo on the upper half of the sector dial.
The back of the case of Vacheron Constantin's 40mm FiftySix self-winding watch reveals a splendidly finished caliber, the 25-jewel, in-house Vacheron Constantin caliber 1326. This is a self-winding 4Hz movement which beats at 28,800 vibrations per hour, it has a power reserve of 48hours +/- and features a beautifully finished 22k solid gold rotor.
The band is made of high quality and sturdy alligator leather with blue stitching. For added comfort, it has a softer light brown calfskin leather on the interior of the band where the strap meets your skin.
Will this ever become an icon of any sort? Who knows? Vacheron's marketing team is certainly making claims that it is a vintage-inspired recreation of an iconic watch. How much of that is marketing hype? That is up to you to decide. Nobody in the watch community remembers the icon they are referring to which kind of defeats the purpose of calling it iconic. However, this is the kind of watch that is not overpriced in any way. In fact, compared to any other vacheron constantin fiftysix tourbillon watch it's probably underpriced.
The bottom line is that the quality is definitely there, and without a question, the craftsmanship you've come to expect from a Vacheron Constantin watch is also present. In the end, this series offers tremendous value at a lower than expected price point. It's certainly not their flagship watch but it's a nice timepiece with a timeless design from a highly respected brand at a very competitive price.
Do you know what the new-for-2018 Vacheron Constantin FiftySix collection is based on? Come on, have an educated guess! Nothing? Anything? Well, it is the "modern interpretation of the iconic reference 6073, launched in 1956 and inspired by the Maltese cross." Good thing I already took my pills prescribed for the nervous twitch I had recently developed for the i-word.
Now, first things first, I know I have gone on a rant about the new Jaeger-LeCoultre Polaris here, but it is only now, weeks after I have written this draft while coming back for another look that I realize the resemblance between the two watches, as well as my reaction to them – this, I presume, simply couldn't have dawned on me during the remarkably busy weeks during and after SIHH. Now, this being said, as we shall see below, the two watches very much belong to the same trend, but one (this one) makes a notably better effort at it… And with that, let us now discover the many shades of vintage laziness.
With a bit of help from Wikipedia, I think I could feasibly give you a 24,753-item-long list of things more iconic than a watch that, I suspect, a considerable percentage of global Vacheron Constantin staff couldn't pick from a group of five other 1950s Vacheron dress watches. Call it historical or call it original, but the 6073 is not an icon of much anything. Icons by definition you have either seen before (and remember), or at least have seen their impression on many other contemporary items that have been inspired by it. In other words, an icon should somehow be relevant today and it should be part of at least the passive knowledge base of the masses. Now, you tell me how many of you have thought about the 6073 in the last number of decades.
In its official communcation about the FiftySix collection, Vacheron Constantin fails – doesn't even try – to explain how the 6073 has affected watches that came during its time or after it. Sure, the 6073 is by all means a neat-looking dress watch, but I deeply doubt the absolute majority of watch lovers have sought it before or used it as a point of reference. I chose to not add a picture of it here, because if it's that iconic, I'm sure all of you know what it looks like. Although I am certainly no authority on this topic, I think most of us will agree that the Royal Oak is an icon, the DW-5000 G-Shock is an icon, or perhaps the iPhone or the Porsche 911. A largely forgotten and in fact not at all highly collected 1950s Vacheron Constantin dress watch is not.
Vacheron Constantin remains confident about the FiftySix collection and describes it as "Design and positioning [being] in tune with the current expectations of Fine Watchmaking connoisseurs." Oh, okay then. I had my doubts, but this totally convinced me otherwise. Apparently what we want is the confused look of mixed up indices and sub-dials that are just way too close together. Yes, these certainly rank high on the bucket list of "Must-have watch design elements in 2018" for every Fine Watchmaking Connoisseur. But wait, there's more.
"For the first time in its history, the Maison has decided to offer a classic collection both in gold and in steel, while treating the latter material with the same high aesthetic standards as the precious metal. As an example of this, see the use of white gold hands and appliqués on the steel versions of the FIFTYSIX
."
So, after some 46 years of utter disdain, the lowly, lowly stainless steel – a material proudly used in other stupid-expensive luxury watches since 1972 – gets to enjoy the warm, welcoming embrace of "the Maison" in a classic collection, no less. White gold hands and appliqués, like on any Rolex watch at any price point in recent memory, as well as an undoubtedly beautiful, 22k gold automatic rotor find their ways into the entry-level Vacheron Constantin FiftySix Self-Winding Steel, competitively priced at $11,700 – not just into its pink gold superior, that costs a decidedly less plebeian $19,400.
Sure, all this fits the image of the brand neatly. Vacheron Constantin's forte is being the ultimate safe-haven for a certain type of clientele. Beyond selling to those who genuinely like their watches, one gets the idea that it also attracts the sort of chap who makes good money but does not yet have a distinct personal taste nor/or the confidence to wear something he discovered he likes. Hence, until this changes, his concern is to be able to defend his purchase and to be reassured by it, so that when he's asked why he bought his Vacheron Constantin – not that most run of the mill Vacheron Constantins could be regarded as hot conversation starters these days – he can just play the heritage card, 1755 and all that. Oh, and also 1956, don't you dare forget 1956… even if, weirdly, the watch doesn't say FiftySix anywhere on it.
Now, Vacheron Constantin has made a step forward, as with the FiftySix collection he at least gets to pretend he has a personality. It's called FiftySix – such a quirky cool and hip way of writing 56, this arbitrary number – while the neatly applied, mixed-up indices on the dial truly look like someone at "the Maison" really got to go to town that one day at work. Even if the resulting baton-Arabic numeral index layout looks like it belongs in a grammar school math book exercise – "today we are learning even numbers up to twelve." In all seriousness, I don't find it to be a balanced look, somehow. It isn't elegant, it isn't fun, it's just half this and half that – as though the watch tried not to overwhelm its wearer with all these confusing numbers between 1 and 12. It looks weird on images and it does not look any better on the wrist.
Now that we fully understand the iconic ancestry and the connoisseur-expectation-meeting positioning of the FiftySix, it is certainly time to start looking at its many, many details. The main challenge in this endeavor for the average "Fine Watchmaking Connoisseur" lies in deciphering which elements of this new collection trace from its iconic – and yet somehow shamefully forgotten! – forebearer, and which ones are new.
The FiftySix collection displays a deep-running fascination with the Maltese cross. Sure, it is the logo of the brand and the – mind you, genuinely refreshing-looking and creatively designed – lugs were also inspired by it but, actually, the Maltese cross for Vacheron Constantin comes from a lesser known, rather more obscure detail. The brand's logo "is inspired by the shape of a component formerly found in mechanical movements. A small wheel connected to the barrel of the cover (sic., presumably they meant the cover of the barrel) which made it possible to use the most constant section of the spring by regulating its degree of winding and unwinding, in order to enhance the precision of the watch." Am I the only one who'd love to see this namesake feature on these watches again?
Though I can't quite twist my mind to see the Maltese cross in the lugs, it nevertheless is unquestionably the neatest element shared by all pieces in the FiftySix collection. They simply are as fabulous as lugs can get and if there's one element where the FiftySix shines without reservation, it is here. In previous years I kept asking if it was actually impossible for big brands to form lugs into something more unique and exciting on their more competitively priced pieces as well. Turns out, Vacheron is at last showing the way, because these really are some of my favorite designs in a long, long time. If anything, these bold, elegant, unique-looking lugs – and the overall case design itself – highlight even more strongly the lame and indecisive dial design.
With three models coming in a total of six variants – each is available either in 18k 5N pink gold or stainless steel – we are looking at the Vacheron Constantin FiftySix Self-Winding (again, $11,700-$19,400), FiftySix Day-Date ($17,400-$32,500), and FiftySix Complete Calendar ($21,600-$35,800).
Under $12k for a watch with Vacheron Constantin written on it is a tempting proposition for sure, even if things are never really as straightforward for major brands as picking a target price range and squeezing a product into it. Vacheron currently offers a number of two- or three-hand watches in the Patrimony and Traditionelle collections wrapped in white gold or platinum with prices going all the way up to $38,700 for a hand-wound (!) Patrimony in Pt950. That price would allow you to buy two of these FiftySix Self-Winding pieces, lose both, and buy a third. Even a more basic, white gold Patrimony in 18k white gold (not offered in steel) is some 60% more expensive than the FiftySix Self-Winding in steel.
So what often happens – not just with watches but for example with luxury cars as well – is that the cheaper product is artificially reduced from greatness. Sure, some will actually prefer the parameters of the cheaper product to those of the more expensive (could be a taste thing or a preference for some tech specs), but the former will nevertheless have been "reduced" in some conscious way. In this instance, the dial on the FiftySix fits into to the range of balanced and elegant dials in the Patrimony and Traditionelle lines the same way a village idiot fits into a family of geniuses.
I remember meaning to talk positives, so let's get back on that track now. The dial quality is indeed quite good: the large, sharp-cut, hand-applied indices and the thick, neat print are all most welcome features on a high-end watch. Vacheron has also stepped up their game in the sub-dial hand department – even a year ago we could still see poorly stamped and totally flat sub-dial hands on Overseas and other watches. Now they have much more volume to them, finally looking like quality-made, 3D objects, as they always should have been. The only poorly stamped hand remains the center seconds hand – it's just one large, flat piece… but hey, we're getting there.
Overall wearability is great – again, the case hardly leaves anything to be desired. All Vacheron Constantin FiftySix watches are 40mm wide – their thickness varies from the 9.6mm of the Self-Winding to 11.6mm for both the Day-Date and Complete Calendar models. That's a neat way of not having to make 3, just 2 different case sizes. The lugs are rather steeply angled and allow for a tight integration of the supple, but firm alligator leather straps – a trait of good case design and a recipe for ideal wearing comfort.
Beyond the lugs, the 22k gold rotor with a beautifully open-worked Maltese cross is present on all models – definitely one of the most expensive parts in the base priced Self-Winding, and it shows. A major difference not to be ignored is the fact that the Self-Winding pieces – in either case material – do not come with the Geneva Seal (or Hallmark of Geneva), that is reserved for the Day-Date and Complete Calendar models. It is important to note that for a number of years now, the Geneva Seal has gone beyond regulating the aesthetic details of watch movements and extended to how also the entire watch head is finished, as well as to performance issues including accuracy, power reserve, and water resistance – though the latter remains a user-unfriendly 30m. For all you need to know about the Geneva Seal, read our comprehensive article here.
Though the movements do look great from the back, their performance is average at best. Power reserve ranges from 40 to 48 hours – only the Self-Winding models reach two full days. Part of this is likely due to the fact that these appear to be rather old construction movements – as you see above, they appear very small even in a modest 40mm case. For 12, and especially 20 thousand dollars and above, from a brand that calls itself "the Maison," actual movement performance clearly isn't something you'll get to boast about. Unsightly corrector pushers also remain an "iconic" part of these supposedly infinitely refined luxury watches – it's 2018 and though yes, the self-winding rotor is nice, these pushers from the 1950s, I guess we could say, objectively aren't. They show a lack of refinement and advancement. Low power reserve, not at all luxurious corrector pushers, and 30m water resistance shouldn't be allowed in the same sentence as the words Vacheron and Constantin.
I guess you could say I have a downer on these watches and you know what, I guess you'd be right. I would understand enthusiasm for this collection if this was an easy-to-like watch, but with that dial it isn't – it's not even close, not on images and not on the wrist either. The price is low on the most basic steel variant, yes – but we all know Vacheron would rather that you bought something nice for $7k-$10k more from other collections. To my eyes, this collection fades when compared to the viciously elegant, albeit still base level dress watches in the Patrimony and Traditionelle collections. I see the FiftySix line as a mix of decidedly poor dials and mediocre performing movements wrapped into one of the best cases the brand has ever made. Calling it iconic and the brand "the Maison" doesn't change these aspects of the product, but it will sure help some to overlook them.