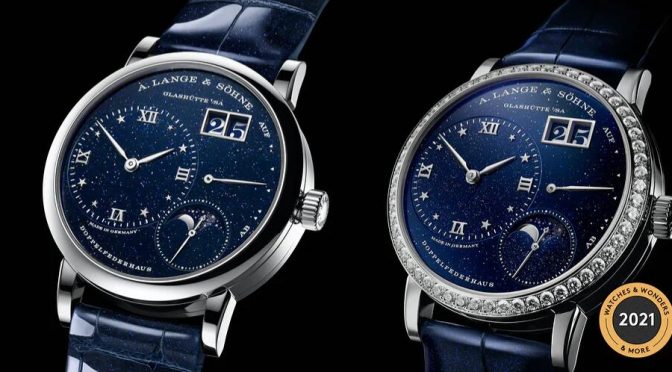 There's something inherently poetic about the moon-phase complication, but this latest Little A Lange Sohne Lange 1 Moon Phase takes that idea to a whole other level. This latest iteration of Lange's small-but-mighty classic is all about the new dial treatment, which is a dark blue "gold flux" material that sparkles like the night sky.
It's a very similar material to what most brands call "aventurine" or "aventurine glass," with tiny particles suspended in a glassy medium, giving it a ton of visual depth and a bit of shine. To continue the astronomical theme, the hour markers are tiny white gold stars (between the classic Roman numerals at 12-3-6-9), and the moon-phase disc has an applied white gold moon and 628 additional stars.
If all of that sparkle isn't enough for you, there's a version of this watch with 56 brilliant-cut diamonds adorning the bezel (1.2 total carats) for a little extra oomph. You might not need it, but it certainly doesn't hurt.
Technically speaking, this Little A Lange Sohne Lange 1 Moon Phase is identical to its cousins from the last few years. The 36.8mm case is a fantastic size for many different wrists (both male and female, I might add) and the caliber L121.2 is one of the new-generation Lange calibers, so you're getting great tech inside too. There's a lot of complexity packed into this relatively small watch, and it's one we're really looking forward to seeing in the metal very soon.
At first glance, this watch might seem like Lange just throwing a new dial on an existing watch, but there's a lot more to it than that. This watch is the culmination of a few different ideas that've been simmering at Lange for years, and it's actually a great microcosm of what the brand has been doing with its so-called "small complications" over the past half-decade or so.
First off, there's the movement. The caliber L121.2 is based on the L121.1, which replaced the L901.0 as the "standard" Lange 1 caliber in 2015. On top of that, it has Lange's new moon-phase complication, which is accurate for up to 122.6 years without needing any adjustments (assuming you survive that long and keep your watch wound).
Then there's the gold flux dial. We've seen this used on simple watches in both blue and black so far, but this is the most expressive implementation yet. This gold flux / aventurine / whatever-you-want-to-call-it material has become trendy, especially among more design-minded watchmakers (Van Cleef have been the masters at this for some time), but it's nice to see Lange implement it in a way that goes beyond it simply being pretty.
The result of this confluence is a watch that's much greater than the sum of its parts. But the parts aren't too shabby.
If you've spent as long in and around the luxury watch industry as I have, you'll know the feeling I'm about to describe: sometimes, you love a brand for all the right reasons and adore its products because each and every one has a distinct character, a story to tell, or a level of craftsmanship that blows your mind without seemingly having to try, and yet somewhere, in the back of your mind, you feel like there might be more to come. Often, in ways we cannot predict, brands are still able to surprise us. And, in doing so, show us a vision of something yet more majestic that could be just around the corner. The A. Lange & Söhne Little Lange 1 Moon Phase first bewitched me, before sending me on a journey…
If there is one complication I feel A. Lange & Söhne Kleine Lange 1 Moonphase pulls off better than any other brand, it is the moonphase complication. That isn't to say the Lange moonphase is the most accurate, most creative, or most integral part of the watch's design, but I am suggesting that when it comes to a mixture of dial balance and aesthetic execution of the complication itself, there is no better brand. Here we see the moonphase complication take center stage, with the kind of starry, starry night that would make Don McLean proud spilling out all over the dial. Instead of the sleek, subtle dials we're used to seeing Lange's moonphase windows enliven, we have a dark blue gold flux background sprinkled with copper particles. The effect is dazzling and the legibility, thanks to rhodiumed Roman markers and hands, is satisfyingly strong.
The theme is continued on the white gold lunar disc, which is decorated with 628 stars of its own. If that dial-side sparkle wasn't enough for you, you have the option of teaming this Little A. Lange & Söhne Kleine Lange 1 Moonphase with a diamond-decked bezel. If you go for that option, your 36.8mm wide white gold case will be topped by 56 brilliant-cut diamonds.
These kinds of aesthetic "specs" normally accompany watches with very little of interest going on behind the dial. Nothing could be further from the truth here. This watch uses the in-house L121.2 caliber, which will record an accurate moonphase for 122.6 years if allowed to run continuously. Assuming that you occasionally allow the 72-hour power reserve to run down, however, a quick adjustment of the moonphase indicator can be performed using the corrector between 7 and 8. The same is true for the big date complication, which can be advanced using the recessed pusher between 10 and 11 o'clock also.
Here's a tiny thing that may have escaped your attention: the stars in between the time dial's cardinal points are in two sizes. The markers for 1, 4, 7, and 10 o'clock are small stars. Conversely, the markers for 2, 5, 8, and 11 o'clock are bigger. The Roman Numerals that mark 12, 3, 6, and 9 are even bigger than the big stars. What this does to our eyes is pull them in a clockwise direction around the time dial. While it may seem jarring at first to use three sizes of hour marker arranged in this fashion, it is a clever way to add a bit of vitality to the time dial, which itself does not benefit from a going seconds hand (that overlays the moon disc). A small thing, perhaps, but it is the kind of design element worth noting and discussing. Let us know how you feel about it in the comments below!
Picking up where my first paragraph left off, I have been on a journey with this watch. In many ways, this is one of my favorite releases from A. Lange & Söhne for a while, but it instantly gave birth to an idea I would like to see put into practice. My favorite complication Lange currently produces is the day/night indicator used in conjunction with the moonphase complication. This has been forsaken here in favor of a totally consistent blue tone. While I appreciate the crisp cleanliness of the result, I'd like to see that day/night indicator alongside this starry display.
Additionally, I would like to see the above modification packaged in one of A. Lange & Söhne's honey gold cases. I think the rare, warm tones of honey gold would look absolutely divine next to this dark blue gold flux dial (with honey gold hands, date window frame, markers, and moons to boot). For me, fusing this new dial with those existing Lange specialties would result in a watch too beautiful for words.