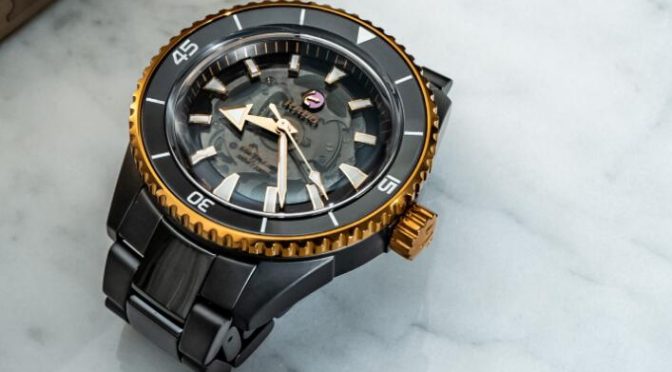 Rado has been working with ceramic for decades now, and it was only a matter of time before the breakout Captain Cook got a full high-tech ceramic case and bracelet. The new Replica Rado Captain Cook High-Tech Ceramic takes a "best of both worlds" approach and largely succeeds in offering a luxury diver in full ceramic case and bracelet for a price just around the $4,000 mark.
There are four introductory models of the Captain Cook High-Tech Ceramic: black high-tech ceramic case and bracelet with steel accents; black high-tech ceramic case with steel accents on strap; a plasma high-tech ceramic case and bracelet with blue accents; and the model that you see here, which is a black high-tech ceramic case and bracelet with rose-gold PVD accents. Rado has made high-tech ceramic cases and bracelets in a range of colors, like red, yellow, orange, pink, blue, and many others, so who knows what we might get in the future? Or am I the only one who would absolutely rock an all-pink ceramic Captain Cook?
If you want to brush up on Rado's history in working with ceramics, you can read an informative and educational piece about it right here. Ceramic is highly scratch-resistant, lightweight, hypoallergenic, and has an overall ooh-la-la factor. The downside to ceramic is one that I believe to be highly overstated, which is that it can shatter, if dropped. I've never heard of this happening to anyone.
Previous iterations of the Captain Cook have come as small as 37mm and as large as 45mm, with most of the recent iterations, like the Bronze, coming in at 42mm. This High-Tech Ceramic model comes in at 43mm due to the nature of the material. Rado gave a statement explaining the need for the larger case size:
"To achieve such of construction in ceramic and being able to pass all the shock resistance tests to 5000G the ceramic needed to be rethought. The challenge was to keep the DNA of the original piece. We cannot really compare the production of a stainless steel watch case VS a ceramic watch case. The ceramic chimney to set the bezel on it needs a bigger volume. This part is more exposed to shocks. At the end, this influences the position of the "chevé" box sapphire crystal.
The screw-down crown for a ceramic case is more challenging. The tube needs to be mounted with an O-ring for the 300-meter water-resistance. Then, we can screw the crown on the tube. It takes more volume, as well. A pressed-on caseback for 300m on a ceramic case also takes some additional space in the thickness."
So, all this is to say that the material necessitates the larger case size, and that's just the way it is. The 43mm-wide case is 14.6mm-thick and has a lug-to-lug height of 49.8mm. In a perfect world, we could take a millimeter off the height and width, but this is a tradeoff that's inherent to the nature of the piece.
I have to say, I wasn't sold on the two-tone black ceramic/rose-gold-coated PVD model from the early press shots, but… damn, it just looks pretty sleek in the metal (well, ceramic, not metal). This model comes on a full ceramic bracelet with matte-black outer links and polished center links. The bracelet is well-built and comfortable, and there is little out there in terms of competition at this price point. Sure, a little beveling would have been nice, but that kind of finishing on ceramic would undoubtedly come at a cost that would be passed down to the consumer.
The monobloc ceramic case is all matte, but the polished red-gold coating on the side of the bezel and on the crown breaks up the monotony, though there is a version that has these case elements and the hands/indices done in steel, if the gold isn't your speed. There's also a plasma high-tech ceramic model, which is essentially a ceramic that has an almost soft steel color, rather than black. This one comes with a blue dial and bezel, and I wouldn't be surprised if it ended up being a very popular model.
The exhibition caseback has this same tinted sapphire (which increasingly grew on me over the course of the few days I had this watch) with a view of the Rado calibre R734. With the anti-magnetic Nivachron hairspring courtesy of Swatch Group, it's a solid modified ETA movement that has an 80-hour power reserve.
It's fair to say that since its reintroduction in 2017, Rado's vintage dive watch reissue, the Captain Cook, has been a runaway success.
The design, which turns 60 next year, authentically hit all of the touchpoints popular with fans of the vintage watch aesthetic without having alter its original design and has since been realised with stainless steel and bronze models in a choice of 37mm and 42mm cases and a number of colorways as well as the Captain Cook MkIII.
Now comes the turn of ceramic, the material people most associate with Rado, to create four new references with a new 43mm case and two finishes, a regular matt finish High-Tech Ceramic and plasma-treated ceramic, which is visually indistinguishable from polished metal. Each watch features a hardened stainless steel rotating bezel with a ceramic ring insert, features a transparent dial revealing the automatic Rado Calibre R734 movement inside and offers 300m water resistance.
The black High-Tech Ceramic watches are available with bezels either in raw stainless steel or gold PVD-treated steel. The steel-only model is available on both a full ceramic bracelet or a rubber strap.
The final model uses its plasma-treated ceramic for the middle links of its bracelet, which, when set against the gunmetal-coloured ceramic of the case and outer links of the bracelet, gives the same impression of a metal watch finished with a mix of polishing and satin-brushing. Here the ceramic bezel ring is a muted blue.
Captain Cook? No, it's Captain Nemo I'm thinking of when I look at the black, shiny, and semi-transparent aquatic watch on my wrist. Let's go hands-on with the RADO Captain Cook High-Tech Ceramic as we welcome a little steampunk to our lives…
According to Wikipedia steampunk is "a retro-futuristic subgenre of science fiction that incorporates technology and aesthetic designs inspired by 19th-century industrial steam-powered machinery." I couldn't have said it better myself. One look at the black RADO Captain Cook High-Tech Ceramic and I think of Jules Verne's Captain Nemo aboard his futuristic submarine "Nautilus" — a vessel both incredibly luxurious and technically advanced. It must be the mix of smooth-looking and glossy state-of-the-art ceramics and the hard-working "engine" you see beating below deck. The watch would feel right at home in Verne's novel from 1869 "Twenty Thousand Leagues under the Seas: A World Tour Under Water" and on Nemo's wrist.
If it works for Nemo, it works for me. The RADO Captain Cook High-Tech Ceramic Watch comes in three other variations, but I picked out the RS32127156 with its sporty rubber strap (€3,400). Comfort is what this watch is all about. Although 43mm is by no means small, it doesn't wear like a typical steel watch in this size. And that's because of the ceramic case that adapts almost immediately to your body temperature.
Pairing the ceramic case with a rubber strap with a slightly retro look makes you forget you're wearing a Captain Cook. And although I prefer a pin buckle over a folding clasp on a sporty or retro-rubber strap, it felt good on the wrist. To stay within the terminology of the ancient British seafarer the watch was named after, it gets lost on your wrist only to be discovered when you want to know the time.
There are two things that stand out. The aforementioned "wear-and-forget" way it behaves on the wrist, and the case shape, box-shaped sapphire crystal, and the diving bezel. It has the timeless appearance of the more traditional Captain Cook, but with a contemporary twist. It's black, it's sinister, and it's definitely high-tech. It's evolution on the wrist.
Last but not least I come to the movement that beats beneath the smokey sapphire dial. There's absolutely nothing wrong with the skeletonized caliber R734. It's a modern movement that offers 80 hours of power reserve, is outfitted with an anti-magnetic hairspring (Nivachron), and has been adjusted in five positions for better accuracy. Simply put, this is trusted ETA tech. It's just that I don't want to look at the engine room all the time. I prefer looking at it every once in a while by turning the watch on its back.
In the case of the ceramic Captain Cook there's a smokey black-tinted sapphire to let you take a filtered peek. But with the movement shimmering through the dial you notice it every time you want to know the time. Okay, the characteristic rotating anchor also draws attention, but that's a signature of the brand you don't want to miss. In an ideal world I'd wear a black Captain Cook High-Tech Ceramic with a solid black dial. I'm more captain Haddock than captain Nemo I guess.
After a short on my wrist it was time for the RADO Captain Cook High-Tech Ceramic to plot a course to new horizons. Yes, a courier came to pick it up to get it back to RADO but that doesn't sound very poetic. I liked the smooth-to-the-touch, shiny High-Tech Ceramic watch that is named after an 18th-century explorer that kinda looks like the timing device of a 19th-century submariner and feels at home on the wrist of a 21st-century landlubber like me. The semi-clear view of the movement is the only feature I'm not overly fond of. I can't blame the Captain for that because open-worked dials and skeletonized movements never seem to get my heart racing. But black ceramic sure does. More information about all versions of the Rado Captain Cook High-Tech Ceramic can be found on RADO