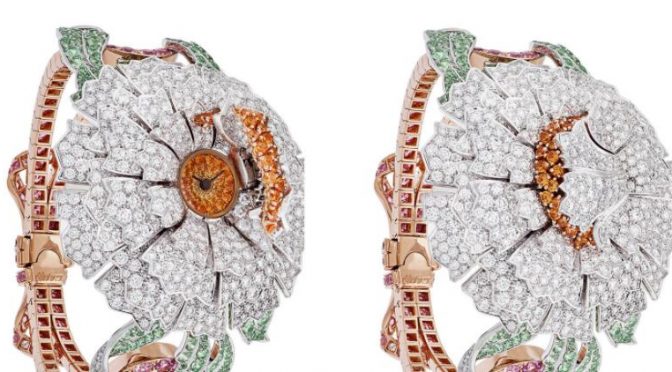 Van Cleef & Arpels is a leader in creating jeweled watches shaped like flowers, be these secret watches, one-of-a-kind creations, or small series.
The craftsmanship of these timepieces is always imaginative and exquisite. But during SIHH 2018, as I was perusing the showcases to check out these rare watches, I did begin to wonder how closely they resemble their floral namesakes.
So, without further ado, let's take a closer look at five of Van Cleef & Arpels's SIHH 2018 introductions from the Le Jardin ("Garden") collection and compare them to their namesake blooms.
"Pivoine" is the French word for peony, a perennial, fragrant flower with compound leaves ranging in color from purple and white to yellow. It blooms in late spring and early summer.
Popular as a garden plant in the temperate regions of North America, Europe, and Asia, it is frequently used in traditional eastern medicines and as a flavoring ingredient for foods. Primarily, however, this is an ornamental plant.
For me, the Van Cleef & Arpels jeweled creation most closely resembles Paeonia lactiflora James Kelway, which boasts a single or double row of broad petals that are normally white or pale pink with a yellow center. The strain was hybridized by James Kelway in 1900, hence the predicate in the name.
This unique piece secret watch's center pivots out to reveal the time on a 10 mm dial set with deep yellow – almost orange – spessartite garnets. It is attached to the wrist by a graceful bracelet of pink gold set with pink sapphires.
Conclusion: Van Cleef & Arpels's artisans have re-created the Paeonia lactiflora James Kelways's white blooms using magnificent gold-and-diamond petals and a yellow center in spessartite garnets. The entirety has a wonderful three-dimensional effect. I find this watch to be an artfully loyal representation of the aromatic flower.
Quick Facts Van Cleef & Arpels Pivoine secret watch
Case: 10 mm (dial), yellow and white gold with diamonds and spessartite garnets
Movement: quartz
Functions: hours, minutes
Limitation: one unique piece
Van Cleef & Arpels Myosotis
Is there a more romantic flower than the forget-me-not? Okay, maybe the rose, but that flower as a watch motif is – let's face it – somewhat overused.
A symbolic flower in myth and history, myosotis symbolizes undying love, loyalty, remembrance, and reminders. Originally named for the Greek word for mouse's ear – a description of the flower's shape – its more romantic name came to us through German myths and mysteries in which it was called Vergissmeinnicht (literally "forget me not"). The English translation is said to have followed by the year 1400.
Myosotis flowers, which can be blue, pink, white, or yellow, are typically no more than one centimeter – 10 millimeters – in diameter. Which makes the 12-millimeter diameter of the Van Cleef & Arpels Myosotis's dial just a bee's whisker larger than the real flower.
The Van Cleef & Arpels Myosotis is a gorgeous piece of jewelry that just happens to tell the time. It resembles a whole flowering plant when it is laid flat, the bracelet revealing the complementary bouquet of wild purple, yellow, and pink forget-me-nots embellishing the white gold case.
The whole thing rests on a bed of pink gold and pink sapphires, which peek through the blooms thanks to a split-level architecture when this oeuvre is worn on the wrist.
As it is not a secret watch, the 12 mm dial framed in white gold and set with blue sapphires is always visible.
Conclusion: This stunning high-jewelry watch by Van Cleef & Arpels beguiles the senses with its variety of golds and gemstones, which perfectly combine to illustrate a bunch of multicolored forget-me-nots. How romantic!
Quick Facts Van Cleef & Arpels Myosotis
Case: 12 mm (dial), white gold with blue sapphires
Movement: quartz
Functions: hours, minutes
Limitation: one unique piece
Van Cleef & Arpels Chrysanthème secret watch
Chrysanthème is French for chrysanthemum, the floral subject of the Van Cleef & Arpels jeweled oeuvre of the same name.
And though this flower comes in many colors and shapes, it would appear Van Cleef & Arpels's designers chose to emulate the magenta or pink Chrysanthemum morifolium, also known as the "florist's daisy."
This decorative chrysanthemum is not only popular for its gorgeous looks, but also in part because of a study in which NASA concluded the the chrysanthemum (among other plants) has exceptional air cleaning and filtering qualities. It can also flourish without direct sunlight, making it an ideal houseplant.
I'll bet the jeweled Van Cleef & Arpels edition flourishes on the wrist with or without direct sun as well. I know it would on mine . . . The jeweler's trick here was to re-create the gradation of colors the plant exhibits, which the brand's artisans succeeded in doing using diamonds, sapphires, and spessartite garnets set into the gold petals.
Leaves of pink and yellow gold set with white diamonds lay against the wrist underneath the petals. The whole oeuvre is attached to the forearm via a white gold bracelet set with diamonds.
The time is revealed by activating a hidden mechanism that springs the lid open. Inside, a dial set with yellow-orange spessartite garnets emulates the hues of the real flower's center.
Conclusion: The Chrysanthème secret watch too is a faithful representation of the flower this jewel was meant to represent. I particularly like the three types of gems used to represent the color gradations of the magenta mum's petals.
Quick Facts Van Cleef & Arpels Chrysanthème secret watch
Case: 10 mm (dial), yellow and pink gold with diamonds, sapphires, and spessartite garnets
Movement: quartz
Functions: hours, minutes
Limitation: one unique piece
Van Cleef & Arpels Dandelion secret watch
We have all seen dandelions, genus Taraxacum. In fact, you can hardly not see them in the springtime when they announce the arrival of all sorts of blooming color.
Often considered weeds thanks to the rise of herbicide companies, in truth dandelions are wildflowers and are classified as such. They mainly grow in the temperate regions of North America, Europe and Asia, but can be found on six continents.
The dandelion, high in nutritional value, is an edible wildflower rich in fiber and calcium. It has historically been used in teas, wines, and salads.
Very importantly, these wildflowers serve as a vital source of spring nectar for bees.
The word dandelion comes from the French dent de lion ("lion's tooth"), most likely because when in bloom in early spring the florets may seem to resemble lion's teeth.
Interesting is also how this plant disperses its seeds: after flowering, the flower head dries out for a couple of days and the stamens and petals drop from the plant. A parachute ball opens into a sphere and seeds attach to the white fluff for distribution by the wind.
While the German language has a separate name for this stage in the dandelion's life (Pusteblume, which loosely translates to "blow flower"), the English language doesn't appear to have a special moniker (let me know in the comments below if you have heard of a name).
Van Cleef & Arpels's Dandelion secret watch is a beautiful representation of nature's perpetual renewal as evidenced by the metamorphic life of one of these wildflowers, combining the twin motifs of yellow bloom and seed-dispersing Pusteblume. These are connected by a bracelet decorated with alternating white and yellow diamonds that create an outline of leaves.
Each side of the flower depiction reveals a unique element: the yellow gold dandelion bloom set with yellow diamonds can be pivoted to the side to reveal a sunny quartz-powered watch, while the Pusteblume's ethereal diamond sphere contains a trembleuse diamond setting that quivers like the delicate seed disperser in the wind.
We first saw the trembleuse technology used in a Cartier Ballon Bleu in 2015; see this in Rods, Springs, And Palpitating Diamonds: The Ballon Bleu de Cartier Serti Vibrant.
Conclusion: I find this artful depiction of the dandelion in both its forms very close to the real flower. Adding the "trembling" setting to the Pusteblume was a stroke of genius: I could watch it for hours!
Quick Facts Van Cleef & Arpels Dandelion secret watch
Case: 10 mm (dial), yellow gold with yellow and white diamonds
Movement: quartz
Functions: hours, minutes
Limitation: one unique piece
Van Cleef & Arpels Marguerite secret watch
The marguerite is a type of daisy whose official name is Argyranthemum. Endemic to islands like the pearl of the Atlantic, Madeira, it is now widely used as a garden plant everywhere in the northern hemisphere, though it's been my experience that it is a moody plant needing lots of water to survive.
Its most typical characteristics include the single white petals – though these edible elements can also be other colors – and the bright yellow center.
It is also the daisy that features in the game "he loves me, he loves me not" in which petals are picked to the rhythm of the alternating phrases; the one that is landed upon with the last petal is deemed true. This game originates in France, where it has many more choices than just yes or no – which Christophe Claret's Margot depicts in an interesting way (see Christophe Claret In Bloom: Introducing Margot, His First Ladies Watch).
The creation by Van Cleef & Arpels does not have removable petals, but it does boast coming from a long line of daisy-inspired items at the iconic jewelry marque, where daisies have "bloomed" since the 1920s.
Now one blooms as a secret watch where time remains buried underneath a heart of yellow sapphires until it is wanted. And following this brand's tradition of transformable creations, the watch can also become a brooch by clipping it to a yellow gold frame shaped like foliage.
Conclusion: The Marguerite watch looks just like its namesake flower, and I particularly like the three-dimensionality of the yellow center that opens to reveal the time.
Quick Facts Van Cleef & Arpels Marguerite secret watch
Case: 12 mm (dial), yellow gold with white diamonds
Movement: quartz
Functions: hours, minutes