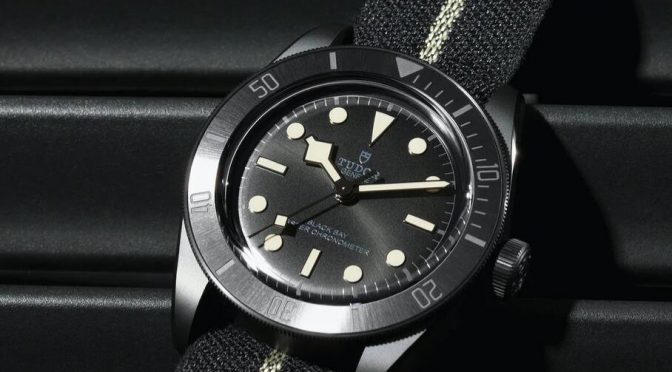 Tudor has been making some surprising moves lately, including (depending on your expectations) an 18k gold version of the Black Bay 58, and a sterling silver version of the same watch as well. Now Tudor's announced another surprise: The Tudor Black Bay Ceramic. This is a Black Bay with a full ceramic case and ceramic bezel insert, and the watch has a new movement as well – the caliber MT5602-1U.
The most notable feature of the watch, however, is one you can't see. This is the first watch from Tudor to be certified by the Swiss Federal Institute Of Metrology in Bern (METAS) which in 2015, in partnership with Omega, developed a new certification standard for wristwatches. METAS certification requires the watch in question to be Swiss-made and COSC-certified, and as well, to pass a battery of additional tests. These include testing the watch for precision in 6 positions and at two levels of power reserve (100% and 33%) as well as waterproofness, length of power reserve, and most importantly, resistance to magnetic fields. The new Black Bay Ceramic is resistant to magnetic fields up to at least 15,000 gauss, which makes it, for all intents and purposes, completely resistant to magnetism in daily life.
All testing for METAS certification is done at Tudor HQ in Geneva. Another first for the watch is on the dial – this is the first Black Bay to actually say "Black Bay" on the dial. Danny Milton says, "Usually the dial has the depth rating (gone) and 'Chronometer Officially Certified' (gone). Went from three lines to two lines of text which I think people will like."
This is actually not the first Black Bay in ceramic – you might remember that that honor goes to a watch Tudor created for the Only Watch benefit auction in 2019 (the auction is held every two years, and proceeds go to benefit research into therapies and a cure for muscular dystrophy). That watch was the Tudor Black Bay Ceramic One, which hammered for CHF 350,000. The new Tudor Black Bay Ceramic is, however, the first full production Tudor Black Bay in ceramic.
This is also the first time that a METAS certified watch has been produced by a brand other than Omega, which up until now has monopolized the certification.
The production of a METAS certified watch by Tudor is a logical move. For one thing, it means that the company is now in the forefront of technical mechanical horology, and it gives it a very strong competing value proposition with other brands, especially those producing sports watches and dive watches in the sub-$5000 range. It also serves to further distinguish Tudor from Rolex, which is increasingly important moving forward. Tudor's ability to present designs that set it apart from the Crown has become more and more firmly established in recent years, and while its own family of calibers were a distinguishing feature, the Tudor movements (which come from Kenissi) now have, with METAS certification, a major advantage for the consumer.
Tudor's ever-expanding Black Bay collection has grown by one, welcoming a new all-black, ceramic-cased dive watch.
The stealthy watch uses matte finish black ceramic for its 41mm case and a circular-brushed, satin-finish ceramic bezel insert with engraved diving scale. Inside is an all-new, all-black MT5602-1U automatic in-house movement with 70-hour power reserve.
However, the big news is not the sleek new case material, but rather the words "Master Chronometer" on the dial. If the phrase seems familiar that would be because it started appearing on Omega dials in 2015.
The precision standard was jointly developed by Switzerland's Federal Institute of Metrology (METAS) and Omega and consists of eight tests applied to the cased watch over the course of ten days, but only after the watch has already passed the COSC certification, which only applies to the movement, rather than the whole watch.
The tests confirm resistance to both water and magnetic fields of up to 15,000 gauss as well as accuracy within a five-second-a-day tolerance range, which surpasses the COSC standard by a full five seconds a day and Tudor's own internal criteria by one second. Theoretically at least, a METAS-certified watch should be able to operate accurately within a functioning MRI machine whilst most mechanical movements made of traditional materials can be stopped dead by a fridge magnet.
Tudor is the first watch brand beyond Omega to have a watch certified as a Master Chronometer, although it is not known whether any have applied and then failed to make the grade. The METAS testing facility itself is housed within Omega's Biel headquarters.
Tudor's decision to adopt a certification process developed by a Swiss competitor seems to be yet another signal from the brand to underline its independence from sister brand, Rolex. Tudor first shocked the industry in 2017 when it entered into a movement swap deal with Breitling, a move so pragmatic that it seemed to almost singlehandedly stop brands boasting about 'manufacture' status.