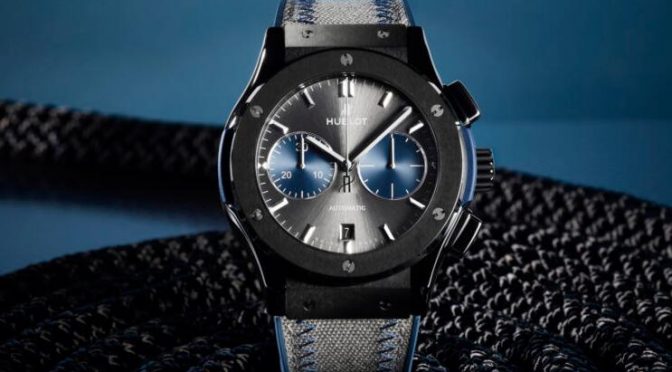 ANNOUNCING ITS APPOINTMENT AS OFFICIAL TIMEKEEPER FOR THE BOL D'OR MIRABAUD FOR THE EIGHTH YEAR AND A NEW "FRIEND OF THE BRAND"—IT'S ALL GO AT HUBLOT IN GENEVA THIS SUMMER!
Summer is a time for renewal and new horizons; Hublot is confirming its close ties with the Bol d'Or Mirabaud as official timekeeper for the eighth consecutive season, and will take the opportunity to present its new collaboration with Chef Jean-Edern Hurstel.
The Bol d'Or Mirabaud allows Hublot to proudly demonstrate its attachment to its roots in Geneva and its love of sailing. What could be more natural than for Hublot to associate itself with this essential event for the region: it is the world's biggest inland lake regatta, running between the two ends of Lake Geneva, from Geneva to Le Bouveret. Around 500 boats will be on the start line for the 123 kilometre route with its changing winds and sometimes troubled waters. The gleaming hulls of the yachts cutting through the blue water of Lake Geneva have inspired the new Classic Fusion Chronograph Bol d'Or Mirabaud. A tricolour watch that is made exquisite by the combination of gloss grey steel, matt black and deep navy blue. Hublot Classic Fusion Chronograph Bol d'Or Mirabaud
Both sporty and elegant, with its 45-mm black satin-effect ceramic case and its topstitched technical fabric strap, the Hubot Classic Fusion Chronograph Bol d'Or Mirabaud is well-suited to nautical life or to wear around town.
Stepping away from the tumultuous Lake Geneva, we head up the bank through the city of Geneva, where the boutique has enjoyed a makeover for the summer season. The boutique at 86 Rue du Rhône has undergone refurbishment and is thrilled to welcome its customers in a new ambiance. Hublot is continuing its summer renewal by celebrating the reopening of Le Floris, a restaurant that has been an institution in Geneva for more than 50 years. The new Le Floris by Jean-Edern Hurstel sets out to be a place that adapts to different times of the day, offering gastronomic-fusion food, a lounge bar and an elegant bistro area called "La Pinte" se
The manufacture is thrilled to associate itself with this iconic establishment and with the talented Chef Jean-Edern Hurstel, who, like the watchmaking house, loves shaking up tradition and creating the unexpected while striving for excellence in all his creations. Jean-Edern Hurstel is a chef who has built his reputation through his career and also his unforgettable time on the French TV show "Top Chef".
After working at four Michelin-starred restaurants under great chefs of French gastronomy such as Alain Ducasse and Alain Passard, he decided to broaden his horizons to Dubai, where he worked in several five-star hotels. Hurstel then returned to Paris, where he managed the opening of The Peninsula and become the youngest Executive Chef of a luxury hotel in France. He opened his own restaurant on the Champs-Elysées, Edern, before taking over Le Floris on the banks of Lake Geneva. And the adventure at Le Floris by Jean-Edern Hurstel has only just begun!