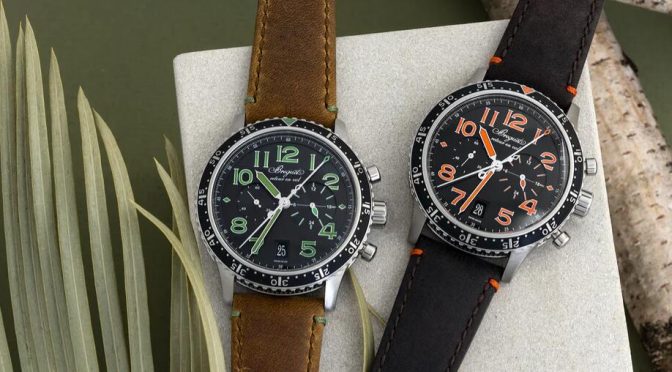 The Breguet Type XX and Type XXI watches are the odd men out in the Breguet lineup. The company's mainstays are elegant watches in precious metals, often kept as thin as is practical, and of course the signature complication is the tourbillon – Abraham L. Breguet's most famous brainchild. The Type XX and XXI represent another, more modern branch of the family tree.
Breguet is naturally most often thought of as a watch company, but one of Breguet's grandsons founded Breguet Aviation, as well (though the two companies had no connection other than the family name). Breguet, the watchmaker, originally produced Type XX watches under contract for the French government – the name was a specification and not a watch model per se, and they were designed with the needs of military aviators in mind.
The modern Type XX and XXI designs are based on the original military specification. Both watches use movements originally developed by Lemania (which was bought by Breguet in 1992) and both are "retour-en-vol," or flyback chronographs, in which pressing the return to zero pusher causes the chronograph totalizers to "fly back" to the zero position; releasing pressure on the pusher allows the chronograph to begin running again immediately. This feature was especially useful for dead reckoning aerial navigation, as it allows a pilot to precisely measure flight time between landmarks or changes in heading.
The Breguet Type XXI 3815 is one of the very few modern chronographs to have a central seconds and central minute hand (virtually all chronographs have a central seconds hand, and a minutes hand in a separate subdial). Previous versions of the Type XXI have been pretty busy – there are the two central chronograph hands, plus a running seconds subdial, a 12-hour chronograph subdial, a 24 hour subdial, and a date window, with sunken subdials and several different typefaces, all adding up to a cluttered, but idiosyncratically attractive, design (oh, and a bidirectional timing bezel as well).
The new Breguet Type XXI 3815 is a pared-back version of its predecessor. While the central chronograph minute and seconds hands are still present, the 24 hour subdial is still present, and the pronounced bevels around the subdials are gone, as well. The result is a two-register chronograph (center seconds and minutes, with subdials for the 12 hour chronograph totalizer and the running seconds) with date. The case is in titanium, with either green or deep orange lume, and the design is being launched as a limited edition of 250 pieces in each color, at $14,900. They'll be available as of June 17th, through Breguet boutiques.
I find the Type XX and Type XXI fascinating. They both use very interesting movements. The caliber on which the Breguet calibers 582 and 584Q are based, is the Lemania cal. 1340/Omega 1040, which was originally produced starting in 1972 and was only made for about five years. It was produced by Lemania as a reply to the Vajoux 7750, and was, like the 7750, an integrated automatic chronograph with a lever and cam system (rather than the more expensive, and more traditional, column wheel system). The 1340 was replaced in Lemania's lineup by the cal. 5100, which was also a selfwinding chronograph with center chronograph seconds and minute hands. Cal. 5100 was a mainstay of military and tool-chronograph design, and has its fans to this day. Although it was a relatively crude design in terms of the usual standards by which mechanical horology's judged, it was also sturdy and reliable.
The Breguet calibers 582 and 584Q are directly descended from the Lemania 1340. While the basic mechanism remains the same, the movements now have silicon escapement components and silicon balance springs, with freesprung balances, hand-engraved winding rotors, and overall, a much finer finish than the original Lemania 1340. While $14,900 might seem high at first for an automatic chronograph in titanium, it starts to make a lot more sense when you take into consideration the rarity of center-seconds and minutes chronographs in general, as well as the general fineness of execution you get in the 584Q.
While I always thought the somewhat baroque clutter of the Type XXI had its own quirky charm, the 3815 is undeniably a better looking watch. It feels a lot closer to the intention of the original military spec, it's easier to read, and the lime green and burnt umber tones of the lume keep the whole thing from feeling too predictable.
What is predictable, is saying boooo to the idea of having the design only available as a limited edition, however, you can't really fault Breguet for testing the waters before launching a non-limited version of the design. If in fact that's what they're planning. I hope that's in the cards – the two new limited editions have glossy, sunray-brushed dials (and that colored lume) but in steel, with a matte black dial and white lume (or maybe the merest smidge of ecru, to keep things from feeling too stark). If so, you'd have a handsome as hell chronograph. In the meantime, pas mal, Breguet, pas mal.
The Breguet Type XXI 3815: case, titanium, 42mm with screw-down crown, water resistance 100 meters. Movement, Breguet caliber 584Q/A, 13 ½ lignes running in 26 jewels at 28,800 vph, with 48 hour power reserve. Silicon balance spring with silicon pallet fork; free-sprung adjustable mass balance, adjusted to six positions, with hand-engraved gold rotor. Price, $14,900, in a limited edition of 250 pieces with green lume and 250 with orange lume. Available as of June 17 from Breguet boutiques.