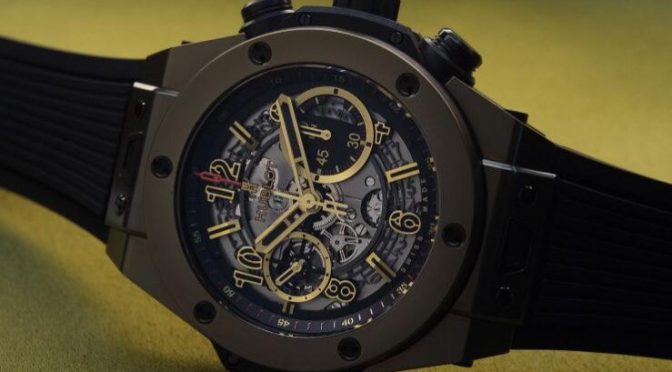 This watch is to Hublot what the Seamaster 300 was to Omega last year. It's a (glittering) showcase of practically all the brand's decade of innovations in one Magic Gold case. If Hublot was a human being, they've evolved from Bane to Batman – still big, still bold, but now beautiful on occasion too.
When the Hublot Big Bang first exploded onto the watch scene in 2005 few people would have suspected just how Big the Bang would be, and how long it would reverberate.
Ten years on and Hublot is no longer the bright, bulky young star with exciting new materials, gases and atmospheres – the brand has matured and rapidly evolved over the decade and found a permanent place in the watch universe, orbiting out among many high-end brands with longer backstories.
Planet Hublot is bigger and richer than ever in 2015 – it's locked into orbit, and increasingly it's an environment suited to more than just ambitious men on the make. It's fitting that this is also the year the first female ambassador was introduced, the not in any way unattractive Bar Refaeli.
But let's get back to the model on wrist. The Big Bang is not the only enfant terribles of modern watch design to celebrate a birthday this year. The square Bell & Ross B01 also helped to herald an era of hyper-masculine design in 2005. It too has endured and changed and earned the title of an 'icon'.
To celebrate the milestone for the Big Bang Hublot has released a trio of 10th birthday models (and some insane jewellery pieces) starting with the Big Bang Unico Full Magic Gold.
If you read the Apple watch hype, you'd be forgiven for thinking that Apple had the monopoly on innovative materials, what with their new scratch resistant gold alloy. Not so much. Hublot have been working with a very similar product since 2011.
Magic Gold is a proprietary 18-carat gold alloy that speaks to the heart of Hublot – whose 'Art of fusion' tagline is omnipresent – combining new materials into watchmaking. In this case Magic Gold is a mixture of gold with ceramic. This mix creates a material that is unique to wear and touch. Slicker than regular gold, and less lustrous, it's a material with real benefits – the ceramic content means that Magic Gold is highly scratch resistant, with a hardness of around 1000 vickers.
Myths abound about this material. Many recall Hublot Chairman Jean-Claude Biver standing up at a launch dinner for the watch, picking up a steak knife and trying to saw at the Magic Gold case. He couldn't, despite his allegedly vigorous efforts. People still talk about it. It worked, then.
The Hublot Big Bang Unico Full Magic Gold is the first watch to have a completely Magic Gold case, which is far less 'gold' in appearance than King Gold or the gold you're probably imagining on other brands and models. It's the classic Big Bang design, powered by Hublot's top of the line Unico column wheel chronograph. The matte black dial is skeletonised to better show off the movement, which has been treated to give it an anthracite finish. All this combines to create a surprisingly muted watch.
On the wrist the Big Bang Unico Magic Gold wears well. It is perhaps the least flashy gold watch I've ever tried in the metal. Still, it is a 45mm Hublot Big Bang, which has a fair bit of inherent flashiness. But the case and dial treatments are toned down – so the watch doesn't scream bling. Rather it projects a more subtle statement of prestige.
The Hublot Big Bang Unico Magic Full Gold is, by Hublot standards, a relatively reserved watch. It's still a confident expression of the brand DNA, and showcases how far they've come with technical developments around case materials and their own movements, but it's all expressed with less wild eagerness and testosterone than you might be expecting.
Do you remember when Hublot was all about "the art of fusion?" To this day, I can easily recall one of the many characteristic instances when Jean-Claude Biver started shouting at his audience with great enthusiasm about Hublot and "fuuusion," where different materials and ideas come together to create something new. I also recall being very impressed by this novel, expensive, and consistently innovative approach that was new not just for Hublot, but any major luxury brand as well. I had to wait until now, though, to have a watch in for review that featured what I expect to prove itself as the greatest achievement of Hublot's dedication to fusion: Magic Gold, their proprietary gold that "cannot be scratched." So, my curiosity has at last been cured by spending some quality time with the Hublot Big Bang Unico Magic Gold watch, and I couldn't wait to see just how magical it really was.