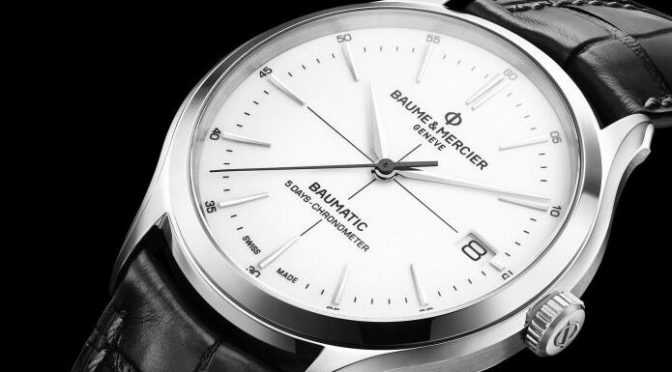 The Baume et Mercier Baumatic has revolutionised how we see this Swiss brand which remained in the doldrums for far too long. With the release of the Clifton Baumatic Day Date Moonphase, let's take a look at potentially a perfect watch for the times.
For personal and family reasons, I am rather fond of Baume et Mercier. You see, the first luxury watch I received as a young adolescent was a Baume et Mercier. Handed to me before an exam to "keep me on time", it was an 18k gold Baumatic from 1973 with a Buren microrotor movement.
For this reason, the Baume et Mercier Clifton Baumatic immediately caught my attention as a handsome, very versatile man's watch when released in 2018. However, this watch was infinitely more important than that. In truth, it heralded the return of a popular brand to the folds of the truly desirable.
However, the Clifton Baumatic has seen considerable change and expansion since its release in 2018 whilst remaining truly influential. In fact, the 2020 release of the first complicated 'mainstream' version — the Clifton Baumatic Day Date Moonphase — which brought this collection back to mind. In today's article's let's take a look at why it represents so much change for the Swiss watches we love.
Opening with Controversy
When the Baume et Mercier Baumatic was launched in 2018, it was an interesting bridge between the past and present of Baume et Mercier. First of all, the name "Baumatic" was rather evocative for any previous owner of a Baume et Mercier as the title given to their most interesting movements.
In modern form, this was replaced with the brand-new proprietary Baumatic BM12-1975A movement. Offering a 5-day power reserve, chronometer regulation and silicon components for the escapement and hairspring, it was also a very fine movement developed by Richemont's movement maker Valfleurier.
It was, however, that last inclusion which caused trouble. You see, the use of silicon in watchmaking is a veritable legal minefield where patents are often held with the aim of avoiding competition. To cut a long story short, this Baume et Mercier had to abandon its silicon components in favour of their conventional alternatives thus causing trouble early in this calibre's life.
Putting this to one side, though, it was unsurprising that the Clifton Baumatic enjoyed more success than any other watch from the brand in recent memory. The price now sits at £2,500 (CHF 2,850) which makes it not only a match for Tudor but perhaps even for more expensive Omega and Rolex alternatives. In fact, with the expiry of the patents for silicon components coming in the next few years, we might even see Baumatic in its original form.
A New Aesthetic
The last few years have been rather a woeful time for Baume et Mercier, let's not deny it. They have included a rather incomprehensible hodgepodge of ETA and Valjoux-powered sports and dress watches which tried to compete with Longines and Chopard whilst often struggling to justify their worth.
With the Clifton, first released in 2012, Baume et Mercier created the platform for their salvation. Where other collections had rather forgettable looks, the Clifton was modern and crisp with sharp bevels whilst also rekindling the 1950s with the in-house Clifton 1830.
However, until the Baume et Mercier Baumatic in 2018, this watch simply didn't capture attention. Let's not forget that 2012 was the rise of brands such as Tudor with stunning vintage offerings — not the time for a model designed to pull Baume et Mercier forward.
By 2020, though, the vintage trend seems much more tempered and, as a whole, it seems that the market is tiring of endless throwbacks. As a result, the larger-than-ever collection of the Baume et Mercier Baumatic seems better placed than ever.
The Baume et Mercier Baumatic collection
Having dropped the non-chronometer variants in favour of simply the COSC-certified model, the Baumatic collection is, fundamentally, quite a simple product. Offered in steel, gold or a combination of both, the Baumatic is an elegant dress watch which with sensible proportions at 40mm across.
Even so, I reckon that it is the best possible presentation for Baume et Mercier given that it is intensely modern despite having touches of history including the chronometer-cross-hairs on the dial. Of course, the addition of a top-of-the-range perpetual calendar model and a spectacularly well-priced day-date & moonphase variant helps with credibility but its the simple models which show promise.
You see, as we move into the 2020s, it seems that a clean, elegant and timeless aesthetic informed by the vintage watches we so admire is the future. In this context and the enduring desire to see watchmakers demonstrate their skills with proprietary movements, the Baume et Mercier Baumatic seems right on the money.
Naturally, the Baume et Mercier Baumatic isn't perfect. I suspect that it leans too far towards a total dress watch for many men yet, with a bump in water resistance a broadened collection of different complications, this could just become the thinking man's Omega or Rolex.
Such a remarkable success remains to be seen and, in the predicted state of the industry for the coming years, it could go either way. Perhaps a thinned market will draw the eye to what the Baume et Mercier Baumatic brings to the table or it may be amongst the casualties.
Only time will tell but, if I had to put my money on the success of any moderately affordable Swiss watches in recent years, it would be this.