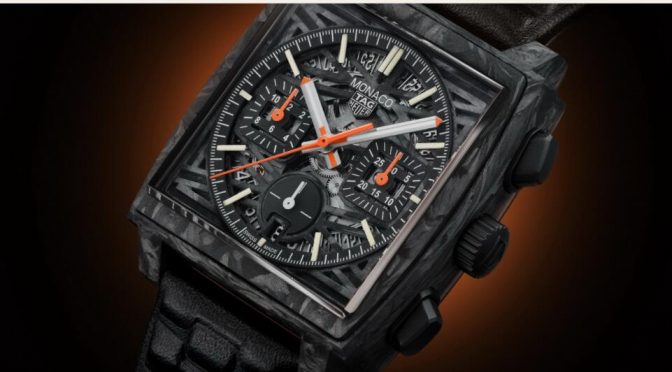 We continue to highlight a few of our favorite watches from among the more than fifty watchmakers that have created timepieces for the Only Watch charity auction, which commences Saturday, November 6, in Geneva. Christie's will auction these incredible watches to raise funds that benefit research in the battle against Duchenne Muscular Dystrophy.
While you may have seen a few of the watches set for auction earlier this year when TAG Heuer Monaco Carbon Only Watch announced them, we thought you'd enjoy seeing many of these inspired designed again just ahead of the event.
The TAG Heuer Monaco Carbon Only Watch will tour the globe starting September 22 in Monaco, and can then be seen in exhibitions in Dubai (September 30 to October 3), Tokyo (October 8 to 10), Singapore (October 15 to 20), Hong Kong (October 25 to 27), Macau (October 28) and finally back in Geneva on November 4-6. Click here for details about the Only Watch world tour.
Today, we highlight the offering from TAG Heuer, which has created the Only Watch Carbon Monaco made with echoes of the highly collectible black-PVD-cased Monaco Reference 74033N, known by aficionados as the "Dark Lord". TAG Heuer made the original watch in limited quantities in the mid-1970s, and it never appeared in a Heuer catalog.
This one-of-a-kind edition is cased in carbon fiber and features the brand's largest-ever sapphire crystal caseback, which TAG Heuer's engineers designed to give the watch's future owner a clear view into its bespoke movement. The watch's skeletonized dial is worked from a single piece of carbon fiber.
Sitting on top of the carbon dial are three black galvanized brass plates. These form the watch's chronograph and small-seconds subdials. Those orange hands echo the Only Watch's 2021 color palette.
The movement here, while technically a TAG Heuer in-house Heuer 02 automatic chronograph, has been decorated by hand especially for this watch.
The movement is endowed with an unique rotor in the form of a hand-finished TAG Heuer shield, which is also decorated with a gradient orange to yellow color of Only Watch 2021. The seamless transition from orange to yellow was achieved by hand, painted by the master dial artist and micro-painter André Martinez from Le Locle.
Indeed, TAG Heuer utilizes specialists Artime SA to create a high-level of finish throughout the movement. And finally, TAG Heuer has created a new leather strap that looks like a metal bracelet. All new for TAG Heuer, the process starts as silicon is injected into the sole of the leather. This is then heat-stamped with a mold in the shape of a metal link bracelet, creating the three- dimensional effect. Very cool, and impressive.