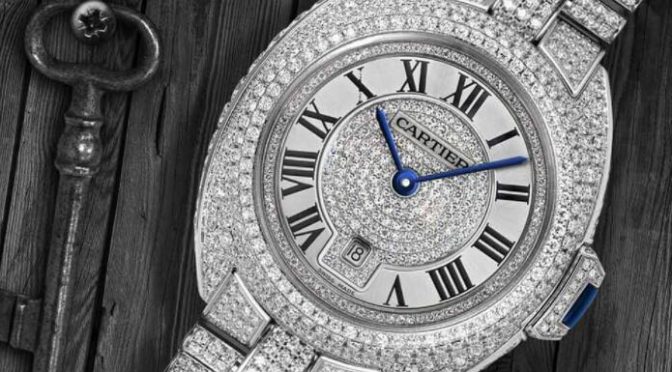 Connecting the old with the new, Cartier is inspired to implement a new look inspired by the traditional winding keys of 19th-century clocks into small form factor mechanical movements.
Our hands-on review of the Cle de Cartier will help you get acquainted with an era of watchmaking long-gone. That is until recently when Cartier nostalgically reminded all of us of a small piece of watchmaking's history and evolution with the Cle de Cartier.
The key to understanding what makes this collection so special may be eclipsed by the blinding light refracted from the countless round brilliant cut diamonds paved along the entire case, bracelet, bezel, and dial. All Ritz and glitz aside let's talk more about the inspiration behind this collection and then discuss the various models.
What is it that makes this watch so special and why are watch enthusiasts giving the Clé de Cartier watch so much attention? In this review, we'll discuss this watch from the inside out and unlock all its secrets.
Some of the common features you can expect in this collection regardless of the model, from the most affordable Cartier Clé to the most expensive ones are as follows: sapphire crystal, bold Roman numerals on a guilloche design dial, date window, blued steel hands, other people's attention to what you are wearing on your wrist. It's
Most watches are wound via the crown but historically this was not always the case. You'll find that many antique pocket watches and clocks were wound via a winding key. It was only in 1820 when John Arnold invented the winding crown that things began to change. Breguet eventually perfected the mechanism but it was not long afterward when it was patented in Le Brassus by Louis Audemars. Other watchmakers such as Adrien Philippe created similar mechanisms such as the sliding pinion mechanism which eventually took over. Even Charles-Antoine LeCoultre created a winding system that required no keys.
Seemingly, every big name in Swiss watchmaking did their part or had a stake in creating or perfecting the way we wind watches today. So why would Cartier roll back the hands of time and create a watch with what appears to be a winding key? Perhaps it's to create a bridge between eras?
The inspiration for the shape is derived from the traditional rectangular-shaped winding keys of traditional watchmaking but in fact, it uses the most up to the minute mechanical innovations of today. It's a homage to the past but with eyes on the future.
This collection contains a few case sizes. The largest being the men's Cle De Cartier 40mm version. There is a mid-sized Cle de Cartier with a 35mm case and the smallest case size being 31mm. The watch depicted in the article's main image is a 31mm version. Use the buttons below to browse these different sizes.
The 35mm and 40mm models of the Clé de Cartier feature the manufacture 1847 MC caliber, Cartier's new in-house movement. This 23-jewel automatic caliber beats at 28,800 vph and has a power reserve of approximately 48 hours. The rotor and three-quarter plate are both beautifully decorated with Geneva stripes.
Most of the models in these various collections come on a metal bracelet using materials such as stainless steel, yellow gold or rose gold. There are even a few two-tone bracelets. However, you can still find a few models that come on an alligator leather strap in various colors such as Bordeaux, black, brown, and even a couple in fuchsia pink.
While the main watch featured here the 18kt white gold model# hpi00980 is a diamond-encrusted full pavé model that is on the higher end of this collection in terms of price, every Cle de Cartier watch is sure to be a treasured item. In fact, most models in the Clé de Cartier series don't come with a 6-figure price tag, and many models can be acquired for under $300.