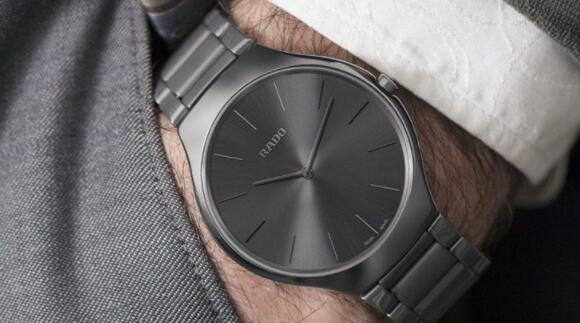 If you equate minimalist aesthetics with bland and boring, Rado is set to prove you wrong. Its Rado True ThinLine watches are concrete testaments to counter your thought, amazingly elegant even in the absence of complications or features you might see on your usual watch dial. Rado, known for its ceramic watches of the highest quality, doesn't skimp on the details just to give watch lovers a beautiful ticking machine to adorn the wrist; this is pretty impressive considering that the True ThinLine is the thinnest offer it has to date, hitting at just 4.9 millimeters. The watch company has spent years of research to bring forth this beauty, and it does not fail to wow onlookers.
Rado, arguably the world's best in manufacturing watch cases made in ceramic, has initially released the True ThinLine in just three colors: white, black and plasma. Years after 2011 have seen the introduction of more choices to the series, including rose gold and green, but stayed true to the original design that says less is more: just hands, indicators and the company logo on the dial.
The benefits that come with previous Rado watches are still offered with the Rado True ThinLine series. The flat watches made with a ceramic bracelet would not weigh your wrist down at just 82 grams and is not vulnerable to scratches. This means you can keep the main attraction besides the bracelet—the dial—looking new and shiny for a long time. Its glass made of sapphire crystal, which is curved besides being scratch-resistant, ensures its legibility. With some versions, such as the True ThinLine Leaf, you can look in amazement at the dial that reveals different effects as it reflects light, thanks to the mother-of-pearl. The ceramic bracelet is polished to elegance and is great to flaunt on most occasions.
The Rado True ThinLine watches are marketed as for both sexes, but the size may put off men as the dimensions make it closer to women's watches. The quartz movement is reliable enough and can amaze others as it fits the very thin watch, but it makes a compromise in water resistance as it only has a rating of 30 meters.