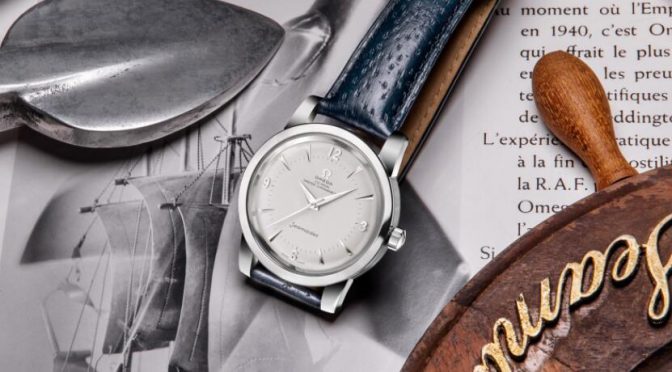 This year is the 70th anniversary of the Seamaster, and Omega Seamaster 1948 is celebrating with a pair of limited edition watches that call back to the model's early years. Both feature 38mm stainless steel cases, refined, domed silvered dials, and classic applied markers. Notably, neither shows the date, which is something I (and I'm sure a lot of you out there) love. One has leaf hands a small seconds register, while the other has dauphine hands and center seconds. Otherwise, the two are very similar.
While the watches look very old-school, inside are high-tech, thoroughly-modern Omega movements that are automatic, METAS-certified calibers with co-axial escapements. Could Omega Seamaster 1948 have gone manual with these? Sure, and I'd be gushing even more here, but this is a more generally user-friendly choice that makes complete sense.
There's a subtle bit of military tribute going on here too, since Omega provided a lot of watches to the British MOD during the years leading up to the Seamaster's creation. There are some caseback etchings nodding to this, though Omega didn't go too heavy with those references (which I think is a good thing here).
The two models are very similar, though the movements are ever so slightly different and the styling of the small seconds model is more 1940s while the styling of the center seconds model is a little more 1950s. Both are limited editions of 1,948 pieces.
As you probably already guessed, I'm a big fan of these watches. The Seamaster is one of the most storied collections in all of watchmaking and doing something fitting for a big anniversary is a no-brainer. Going all the way back to square one though is a smart approach. Most importantly, however, these look like watches that someone today with no knowledge of vintage watches at all could be pick up and enjoy, totally context free. They're a good size, the styling is classic but a little striking, and the movements inside are some of the best everyday movements you can find anywhere. Being able to buy a watch with an anti-magnetic, chronometer certified, automatic movement with a co-axial escapement for under $6,500 is a special thing that we shouldn't ignore or make light of.
Ahead of the show opening, these might be the two watches I'm most excited to see in the metal. If the details have been executed as properly as I think they have been, these could be two straight up home runs for Omega Seamaster 1948.
Personally, I think it's the sub-seconds model for me, since it feels a little more 1940s, but it's almost a coin flip. Which do you prefer? I'd love to know, so drop a note in the comments below.