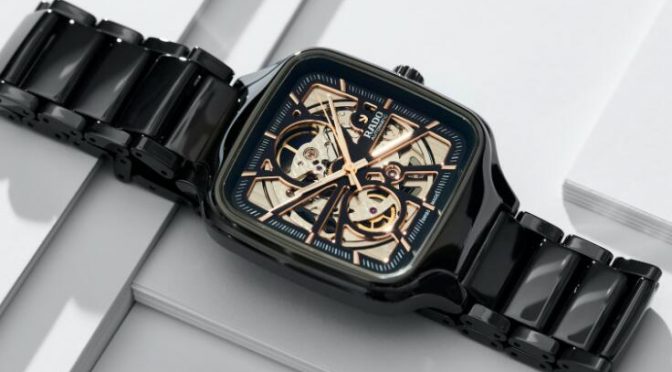 The world of mechanical Swiss watchmaking is steeped in the past – brands are forever looking to their heritage, their accomplishments and their archives as a way to validate new models. And of course they do, because the reason cheaper, more accurate quartz watches haven't put them out of business is their customers find tradition inherently refined and romantic. In recent years, vintage watches – once the preserve of tweedy specialists – have become mainstream objects of desire and thus watchmakers' obsession with all things yesteryear has only intensified.
That's why Rado has always been interesting. It's an established Swiss brand – Rado first appeared in the 1950s courtesy of the watchmaker Schlup & Co, itself founded in 1917 – but it has become synonymous with looking forwards rather than back. You see it in the modernist demeanours of their case designs, but more importantly in the brand's innovations. In 1962, for instance, Rado used hard metal and sapphire crystal to create what it billed as "the world's first scratch-proof watch". From there, the brand doubled down on inventive materials: the 1976 Dia 67, for instance, featured metalised sapphire crystal in the case; the 1986 Integral sported a bracelet made from high-tech ceramic. Plenty more breakthroughs followed, but that high-tech ceramic would become a characteristic trope – its lustre, lightness and scratch resistance are unmistakable.
In a way, then, the new Rado True Square Automatic Open Heart is classic Rado. It is a square watch – another archetypal Rado motif – with high-tech ceramic 38mm case and bracelet. On the wrist this makes it feel silky and, at 120g, uncannily lightweight. The material is fascinating to look at: metallic but not quite, as if it somehow has depth. True to form, however, there's also plenty about the watch that feels fresh. For one, it's the first time Rado has produced a square watch with an injected monobloc construction. For another, and rather more obviously, it has an openworked dial – unusual for Rado – showing off an automatic ETA C07.631 movement with up to 80 hours power reserve. It's not a complicated movement, but it holds your attention, its many shiny little surfaces perpetually catching the light. You sacrifice a little readability in return, but that's skeletonised dials for you. If you're bored of the current deluge of dive watches – if you want to wear something that makes you different from the next guy – but you still want a trusted, storied Swiss brand, this is surely a contender.
When Rado True Square  released its first Open Heart in 2018, some critics wondered if the openworking was at odds with what the brand was all about. They questioned the logic of making the movement – arguably the least interesting part of the Rado proposition – so prominent. But you could say it's entirely apposite. It affords the watch a steampunk quality, an aesthetic that enmeshes history and innovation. And what could be more Rado than that?