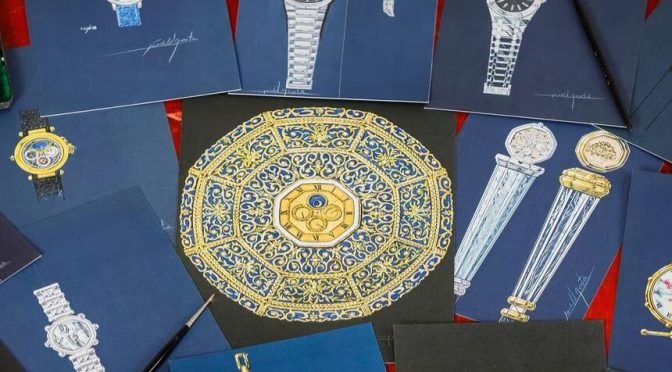 Alittle over two months ago, we shared the news that Sotheby's and Gérald Genta's estate – led by his wife, Evelyne Genta – would be auctioning off 100 of Genta's original sketches, across three sales, to commemorate the 50th anniversary of his most famous creation, the Audemars Piguet Royal Oak.
That brings us to this morning. It was just past 7:00 AM in New York on February 24, when the 31 lots in the first "Gérald Genta: Icon of Time" sale began to close. Our attention was focused on the first lot, an "Original prototype design of the Audemars Piguet Royal Oak," executed as a watercolor on paper by Genta, circa 1972. Sotheby's did not publish any estimates for the sale in advance, so it's hard to figure out exactly what number might have been expected, but the total – as with everything at auction these days – is definitely an impressive sum. However, with it being the first lot of the sale and arguably the most important of the 100 designs being auctioned off, I wouldn't have been surprised to see the design reach a higher figure.
Remember, no actual watches were included in today's auction, only the artworks themselves accompanied by an NFT that corresponds to each individual design. And if we compare it to the estimate Sotheby's has placed on Genta's personal (note: physical) Royal Oak that will be auctioned off in Geneva in May, it surpassed the high estimate of CHF 500,000.
After the sale, I was able to confirm with Audemars Piguet that they successfully won the prototype watercolor. AP also let us know that the design will soon be on display at the company's impressive Bjarke Ingels-designed museum that was completed in 2020. It's a historically important piece of the Royal Oak story, so the fit feels natural. Genta's work will now be visible to any watch lover who makes the pilgrimage to AP HQ in Le Brassus, Switzerland.