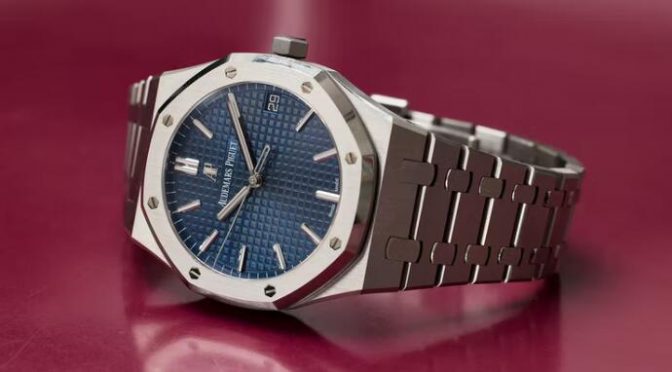 For the first 30 years of my life, many who knew me were surprised to learn that I didn't own a single wristwatch. I have always been a fan of nice stuff. And as that fascination swelled in a career editing a style publication (and even writing a column called The Materialist), my timepiece apathy seemed all the more out of character.
"I have too many other things I like blowing my money on," I used to tell anyone who asked. But if you pried further, I might have given you the truth: I thought watches were kind of lame.
Wait, did I just write that sentence on the hallowed grounds of Audemars Piguet Royal Oak?
Well, it's true. And I think it's important for me to remember that's how I felt. Because now that I've fully imbibed the horological kool-aid – catch me on a Sunday afternoon reading Phillips auction results from two years ago – it's on me to own that lameness.
If I were to sum up my former distaste for watches into an elevator pitch, it'd be this: Watches yearn for a world that doesn't exist.
Watches pine for a reality where nobody has an iPhone. Watches pretend you actually need a Patek 3940 to tell you that it's a leap year, or that you might one day require a Speedmaster to time that emergency space landing. Watches make men in particular want to be Paul Newman, at best, or, at worst, Leo in Wolf of Wall Street. In this sense, watches are the epicenter of male aspirational fantasy – which can be dangerous, or cool, or hilariously tragic, or (as is often the case) all three at the same time.
Here's the weird part: Despite all of this, when I turned 30 and became a father in the same year, an inescapable gravity began pulling me toward wristwatches. I experienced an almost biological desire to adorn my naked wrist with a timepiece. And it was a feeling that felt like the death of my youth: Not only was I becoming a dad, I was becoming a dad with a watch. Was the midlife-crisis Corvette next?
As I explored the feeling that pulled me toward my first watch, my existential dread subsided. What I realized I wanted out of a watch was a lasting symbol of my own identity. If I were to get all Freudian on you, I'd say I might be reckoning with my own mortality through the experience of time, but it's not even that deep.
For any of us, a watch is a personal talisman, an accessory that actually moves, conveying expression and staying on your person despite what clothes you're wearing. When correctly chosen, it offers a feeling of completeness that some derive from their car, their handbag, or the blockchain primate in their profile picture. That was the feeling I needed from a watch.
Figuring out what my watch would be began with training my eye toward the horological talismans of those around me. For instance my partner's Cartier, a tiny manually wound Tank with a custom lizard strap and chipped sapphire that's less an accessory than it is part of her being. Or my agent's gold Rolex Day-Date, with its champagne dial that acts like a portal into the powerbroker energy that simmers beneath his jovial demeanor. Or Andy Warhol's onyx Piaget, a watch I became fascinated by while re-branding the magazine he founded, Interview, a timepiece that captures his singular glamor, genius, and frivolous depravity. Or my late father's kaleidoscopic rotation of 20 or so Swatches, whose exuberance and easygoing practicality are dyed deep into the fabric of how I remember him.
I knew almost immediately into my own journey that my watch was an Audemars Piguet Royal Oak. It was an instinct that felt almost too obvious – given that it's one of a handful of the most coveted watches in the world – but even after copious research into more idiosyncratic options, I couldn't shake its grip.
What I loved most about the Audemars Piguet Royal Oak, and still do, is its brutality. This is a quality I admire across all forms of creativity, because to be brutal is to sacrifice the polite comfort of the status quo in service of new ideas. Releasing the world's most expensive mechanical steel watch in the middle of an existential industry crisis – as Audemars Piguet did with the birth of the Royal Oak in 1972 – is brutal. Designing something for the old-school fine watchmaking market with exposed bezel screws that resemble the industrial face-covering of a diving helmet – as RO designer Gérald Genta did – is brutal. Keeping this design alive and relatively unaltered for 50 years – while the rest of the world spun through cultural phenomena from disco to punk to grunge, plus trap music, Y2K, Avatar, boy bands, Xbox, Instagram, Millennial Pink, and Squid Game – is peak brutal.
I like brutal ideas because they slap things together – in this case, a fancy watch with a weird nautical vibe – but the Royal Oak's true poetry is its depth of craftsmanship. It is the most exquisitely handmade "industrial-looking" object I've ever seen. Its myriad surface textures carve its geometry into sharp relief. It has little inside jokes, like how the notches in its screw heads draw a perfect imaginary circle around the bezel. And then there's the entire troupe of hand-finished mechanical parts that dance beneath its sapphire crystal caseback. This is how you do brutal on par with Mies Van Der Rohe's Seagram Building or Kanye West's Yeezus, with a level of execution that makes something transcendent.
When I actually got my Audemars Piguet Royal Oak – a 41mm ref. 15500 that looks like a classic 39mm 15202 on my linebacker frame – it was uncanny how fluidly it fit into my everyday life, especially for a piece of functional jewelry that trades for the price of a luxury sedan. In this funny, semi-remote work limbo era, I leave it in its box on the days when I mostly Zoom, answer emails, and play with my toddler. On the days when I'm working at the Highsnobiety office, flying around chasing the fashion calendar, or just meeting someone in a place that isn't my study-slash-living-room, I dutifully wind and set my 15500 before my first coffee. Snapping it onto my wrist feels like pushing an imaginary power button that turns on Thom The Editor. A grownup. Maybe a little lame myself now, but wise enough that I don't care. It's the exact feeling I was after.