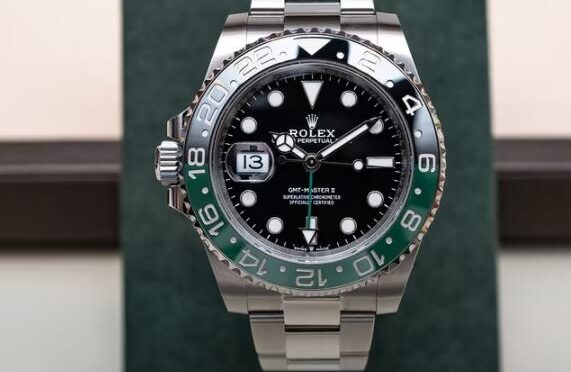 When a new watch comes out, I try to reserve judgment. First impressions are fine and good, and necessary to do what I do for a living – and, hey, once you've held a watch in your own two hands you can go nuts with your opinions – but I don't love how everyone is either in camp it's amazing or camp it's lame before they even see the thing in person.
So I tried to avoid the partisan approach when I first encountered the most talked-about new release at Watches and Wonders, the green-and-black Rolex GMT-Master II ref. 126720VTNR, with the crown and date on the left-hand side. I did finally come to a conclusion by the time I left the Rolex conference room, and I'll share it here, but first I'm going to walk you through how I arrived at a verdict.
When you read a trade show Hands-On story, you're usually reading a finely distilled product. Rarely do we offer any insight as to what it's like in the actual meetings where we spend time with watches. And sometimes the experience of interacting with the brand is just as fascinating as the product. An appointment with Rolex to see their new watches is similar to that at any other brand, except for one thing: Every detail is buttoned-up. Trade shows are generally chaotic, but Rolex engineers all of the chaos out of the experience. You are seated at a long table. Given water, still or sparkling. And then walked through a formalized presentation about each new piece.
In my case, two Rolex representatives from the U.S. Public Relations and Marketing departments led the presentation, and one Swiss product designer from HQ was on-hand to answer any technical questions. We discussed each release and the U.S. team shared some details, history, and info about updates to the watches. I sat back and just observed until the new GMT-Master II was passed around.
Looking at the Rolex Day-Date 40 watch, I could see a vibrant green on the GMT hand and the same color on the bezel – the exact same green as on the Submariner Date. From here, I developed a loose theory about how Rolex landed on green for this release.
The first Submariner, with a Cerachrom bezel, debuted in 2008 – ref. 116619L, and it was blue. Then, later, the Submariner ref. 116610LN with a black bezel and the Submariner ref. 116610LV with a green bezel came out in 2010. So you have a trinity of ceramic bezels: Black, green, and blue.
Now let's review the progression of the GMT-Master II models with cerachrom bezels. This is the most detailed breakdown on the internet. I'll condense it here.
In 2007, we saw the first all-black cerachrom bezel. In 2013 came the first inclusion of blue. Then blue-and-red and the "root beer" colorway followed. So where could Rolex go from there?
If the GMT-Master II followed the Submariner's color introduction pattern, then heading into this year the only color missing from the lineup would've been green. The clues were there all along. In hindsight this is all obvious. But you know what's not obvious? The reasoning behind a left-handed configuration, with the crown on the left-hand side of the case and the date aperture at 9 o'clock, instead of at 3 o'clock like any other GMT-Master II (or original GMT-Master).
I'm a modern GMT-Master II fan. I've had one for two years and it's my everyday Rolex Day-Date 40 watch. I keep it on my wrist for everything short of working with wet concrete. I'm not precious with it. Why? Because that's how I was introduced to the watch. Not through the modern hype train, but by observing what was on the wrist of figures who pushed boundaries. In an early draft of an article titled The Worst Thing You Can Do To A Rolex GMT-Master II Is Put It In A Safe that I wrote for HODINKEE magazine vol. 9, I expressed my views on the GMT-Master II: With this attitude in mind, I took one look at the new GMT on my wrist and immediately imagined myself outside. Green and black feels adventurous. It feels casual. It feels less serious. It feels like it doesn't want to be anywhere near a suit and tie or a cubicle-filled office. And neither do I. I'm drawn to the irreverence of the green-and-black bezel paired with the crown and date on the left-hand side of the case. I like that it breaks the typical sacrosanct Rolex formula.
I'm drawn to this watch because it feels like an anomaly. The pragmatist in me doesn't like it, but the collector in me just loves that Rolex came out with a left-handed GMT-Master II. The move is so un-Rolex. Glitches in the matrix are what make life interesting, and this feels like one of them. That said, it would be very much like Rolex to introduce a standard version alongside the destro version in the next few years. After all, the Pelagos LHD from its sister brand Tudor has remained in the catalog alongside the standard Pelagos models since its introduction.
One last note that has nothing to do with left-handedness: If I owned one of these new destros, I would do something sacrilegious. I'd ditch the steel bracelet and throw it on a rubber tropic strap. This feels like the perfect GMT-Master II for that treatment. Put me in camp I like it.