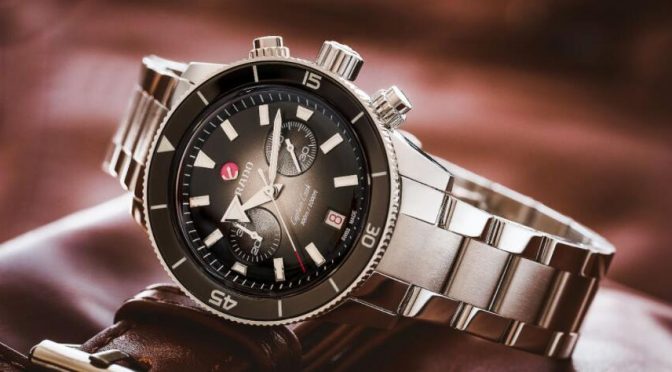 Growing up, I was always aware of Rado as a watch brand. Before my obsession with watches began, I knew of the brand thanks to my mother's love for tennis and Rado's connection to the tennis world. My mother is a keen tennis player and expressed a fondness for the Rado tennis watch on more than one occasion. Since those times, I have come to foster my own fondness for the brand, but that's down to its Captain Cook line. And this fondness is only enhanced further by the addition of three new watches. I am, of course, talking about the new Rado Captain Cook Chronograph.
Since Rado reintroduced the RADO Captain Cook to its collection, we've seen the watch feature multiple guises. There have been different sizes, colors, and metals, and it's even received Rado's Hi-Tech Ceramic makeover. Earlier this month, Rado also reintroduced the Captain Cook Overpole from 1962, showing the wearer a second timezone thanks to the world-time bezel in conjunction with an internal 24-hour scale. The introduction of the new Captain Cook Chronograph is just another string to the bow of the collection, and it's a positive move indeed.
My favorite of the Captain Cook models was always the 37mm original re-issue. But while smaller sizes are usually my preference, I am no snob against larger-sized watches. You only have to look at Tissot's recent success with its PRX Chronograph, which saw a diameter increase to accommodate the chronograph movement. Rado's chronograph measures 43mm in diameter. I can't yet say how this wears on the wrist, but Rado has kindly shipped one out to Fratello HQ for a hands-on review. Look out for this in the coming weeks! I have no doubts that Rado has carefully ensured that the larger case sits and wears just as well as its smaller brethren.
Regarding case material, prospective buyers have a choice of either polished stainless steel or circular-brushed bronze. A screw-down crown and pushers and screw-down solid case back help give the watch its 300m water-resistance rating. That's pretty darn good for a chronograph, but it's no less than you'd expect from a member of the Captain Cook family! Both of the stainless steel models come with a matching stainless steel bracelet (polished with brushed center links), a leather strap, or a NATO strap with steel hardware. The bronze model comes with a leather strap and two NATO straps, all with matching bronze hardware.
As mentioned, Rado offers three models for its new Rado Captain Cook Chronograph collection. The stainless steel case has both black and blue color schemes to choose from. The bronze version, however, only comes in blue. I'm a little surprised that Rado doesn't offer the bronze model in black as well, or even a bi-color steel model with a bronze bezel and detailing. I think that would look pretty sharp! That said, the colors on offer here are plenty nice enough. If the collection performs well from a sales point of view, I see no reason why Rado wouldn't choose to expand on the available color options.
All three models feature a polished Hi-Tech Ceramic bezel inlay in blue or black, complementing the dial color of the particular model. The bronze model has a beautiful blue sunray finish on the dial, which wonderfully complements the brushed bronze case. The stainless steel models have silver gradient dials fading into blue or black. They're beautiful dials, in my opinion. I am a fan! The bronze model features yellow-gold-colored hands and applied indices with a vintage-looking yellowed lume. In contrast, and matching the case, the steel models feature rhodium-plated hands and applied indices with white lume.
I'm rather intrigued by what I have seen on paper and in the press images. The Rado Captain Cook Chronograph sure looks lovely. I am very much looking forward to seeing it on the wrist and putting it through its paces. I am perhaps also buoyed by the Swatch Group's success with Tissot having introduced its PRX Chronograph earlier this year. Hopefully, the Captain Cook Chronograph can match or even exceed that!