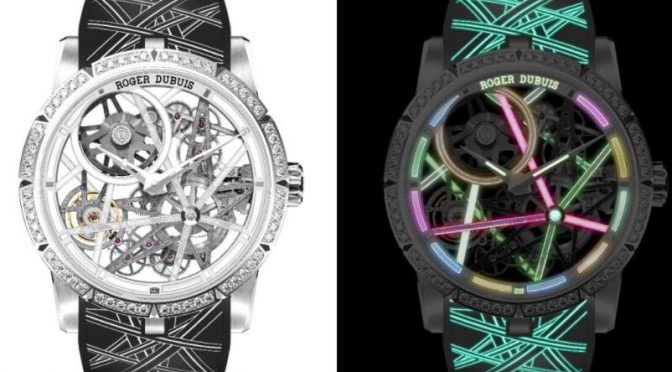 Serial innovator Roger Dubuis Excalibur Blacklight is a firm believer in living larger than life. The intrepid spirit and unleashed creativity embedded in its DNA repeatedly impels it to explore uncharted territories in multiple areas of aesthetic and technical research. The inevitable result of this no-holds-barred approach is a form of hyper horology expressed through daring timepieces.
‍Roger Dubuis thus instinctively and organically creates models designed for an exclusive tribe composed of those unafraid to stand out from the crowd. The latter are sure to be transported to new heights of watchmaking ecstasy with the launch of the latest pieces of watchmaking artistry Roger Dubuis-style: the Excalibur Blacklight.
The art of transforming the glittering towers and glassy spires of a buzzing metropolis into a recognisable watch design is no mean feat. Extravagant and irreverent, with all the ingredients that make Roger Dubuis Excalibur Blacklight unquestionably the most exciting way to experience Hyper Horology, the Excalibur Blacklight is an ode to vibrant cites like Hong Kong, Singapore and Beijing at the height of their nightly splendour – aglow with neon lights and likewise places where ingenuity, innovation and imagination are given free rein.
Like the city, the Excalibur Blacklight transforms at the boundary between day and night: by day, the timepiece wreathes itself in subtle, dignified tons of white, black and grey; by night, the calibre and flange of the timepiece explode in a kaleidoscopic livery of other-worldly colours. Like the bevy of neon lights that make cities come alive after sundown, this triumph of technology and aesthetics illuminate the timepiece in an explosion of artistic creativity.
Featuring the Maison's innovative automatic skeleton RD820SQ calibre, the Excalibur Blacklight is distinguished by a web of crystalline UV-reactive sapphire micro-structures interwoven into its already impressive skeletonised calibre. It is thus that the timepiece transforms into an objet d'art – an expression of mechanical artistry combining passion with cutting-edge technology. Providing the finishing flourish to the Excalibur Blacklight vivid interpretation of major Asian capitals as neon-lit cities the handsome white gold case is set with a constellation of round diamonds juxtaposed against a daringly 21st century luminescent rubber bracelet.
Roger Dubuis fans are accustomed to expecting the unexpected. True to form, the brand that dares to be different has teamed up with one of the city's last neon masters, Wu Chi Kai, to transform one of Roger Dubuis' signature codes into one of Hong Kong's iconic neon lights in tribute to the Excalibur Blacklight. A boutique-exclusive limited-edition of just eight pieces, and the ultimate statement piece, the Excalibur Blacklight is for those who truly wish to stand out while honouring the spectacular visual vibe of ultra-modern Asian cityscapes.
Alert to Roger Dubuis Excalibur Blacklight fans: stay close. Stay very close to be sure not to miss the launch of a second Excalibur Blacklight scheduled to hit the bright lights at the same time. Clad in pink gold from bezel to bracelet, this incandescent timepiece stakes its claim to uniqueness with the former studded with round-shaped coloured gems. A many splendoured thing indeed!