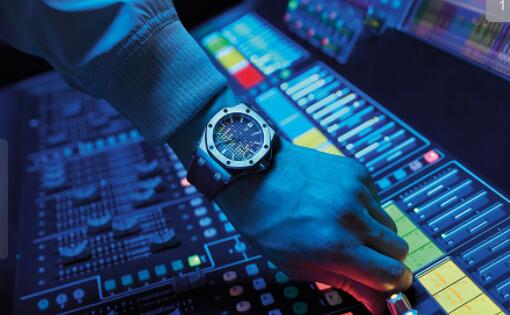 Audemars Piguet has been closely tied to the hip-hop world ever since Jay-Z started name-dropping the Swiss watchmaker back in the late '90s. Since then, emcees from Lil Wayne to The Game to Kendrick Lamar have mentioned the prestige watchmaker in their lyrics. The more you think about it, it makes sense that the bravado of AP — especially when they launched the first-ever luxury steel sports watch back in 1972 with the iconic Royal Oak — is not lost on the rap world. With the notably larger and in-charger Royal Oak Offshore debuting in the '90s, right at the nascence of the commercial rise — and eventual dominance — of the rap genre, it's a natural fit that the horologist pays homage to the modern music scene in return for the admiration it's been getting for decades.
We'd be lying if we didn't admit that this was one of the more unusual releases from AP, but we also can't complain at all. The Audemars Piguet Royal Oak Offshore Selfwinding Music Edition collection features five references in total, made up of three different materials: titanium, black ceramic, and 18-carat white gold. Each watch sports very head-turning colorful dials made to look like volume unit meters on an equalizer, with the guards on either side of the crown resembling faders on a soundboard. Perhaps the most accessible of the bunch is the black ceramic iteration, deliciously contrasting the bright and colorful stones on the dial with the blacked-out case, rubber strap, and upper half of the dial. This version is limited to just 250 pieces.
As for the titanium versions, which come in both 37mm and 43mm cases, they're limited to 500 pieces each. At the upper end of this collection are the two 18-carat white gold models, also in both 37mm and 43mm, which are gemset on the dial and around the bezel. Various gemstones are used to make up the rainbow-like ensemble, including rubies, peridots, tsavorites, and green, blue, and orange sapphires. Both the titanium and white gold versions have a blue dial color to complement the EQ design.
Perhaps unsurprisingly in the year of the Royal Oak's 50th anniversary, Audemar Piguet's 2022 release slate has gone in heavy on earnest and attractive Royal Oaks like the "Jumbo" Extra-Thin Ref. 16202. However, while their classic Royal Oak releases have been pretty serious pieces of watchmaking, the newly unveiled Royal Oak Offshore Music Editions are a much needed injection of fun.
There are five new references being introduced: two in titanium at 37mm and 43mm diameters, two gem set white gold versions also at 37mm and 43mm, and lastly a black ceramic number at 43mm. The cases are all based on the 2021 revamp of the Offshore collection except that there are several nods to music studio equipment hidden in the new design. The crown guards have been shaped like faders on a console and the lug studs have a knurled texture like audio jacks.
However, where the Royal Oak Offshore Music Edition really drops the bass is on the dial. The iconic Tapisserie engraving has been turned into an equaliser/VU meter display. It's a really fun and unexpected take on the traditional design and works surprisingly well as a motif. It's also a natural fit for AP as they're the favoured watches of producers, rappers and music artists the world over. There are three versions of the dial split across the three case materials on offer. The same selection of gems is also present on the white gold bezel. They're all set with AP's new "Harmony" setting, which is a form of invisible gem setting that can be used for smaller, finer gems Below the musical surface of the Royal Oak Offshore Music Editions are two different calibres depending on the case sizes. The 37mm models house the automatic Calibre 5909, which is a new time-only version of the time and date Calibre 5900 that debuted earlier this year. The 43mm models contain the Calibre 4309. The 4309 is a larger movement with a higher power reserve of 70-hours compared to the 5900's 60-hours.
Model: Audemars Piguet Royal Oak Offshore Selfwinding Music Edition
Ref: 77600TI.OO.A343CA.01 (titanium with "mosaic effect" blue rubber strap)
77601BC.YY.D343CA.01 (white gold with "mosaic effect" blue rubber strap)
15600TI.OO.A343CA.01 (titanium with blue rubber strap)
15600CE.OO.A002CA.01 (black ceramic with black rubber strap)
15601BC.YY.D343CA.01 (white gold with blue rubber strap)