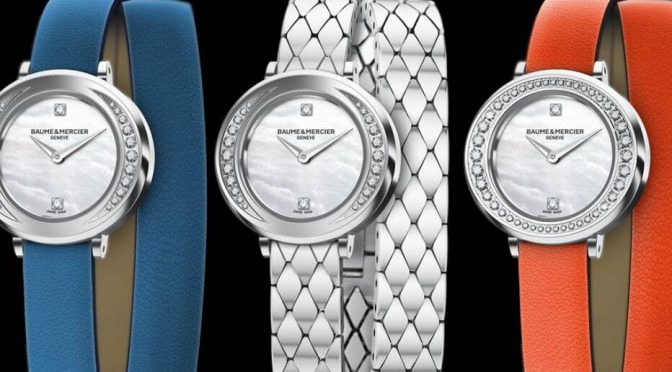 A promise is a commitment to give something to someone, to form a bond. It's also the name of a ladies' watch collection launched by Baume & Mercier in 2015 which is now expanding to include a miniature model: Petite Promesse. Small but perfectly formed!
Its white mother-of-pearl dial is sparkles with two diamond markers at 6 and 12 o'clock. A quartz movement brings to life a pair of silver dauphine-shape hands to track the hours and minutes in the centre.
The 22mm steel oval case glitters with two rows of 22 diamonds in a symmetrical crescent moon on the bezel or 44 diamonds on the crown, all brilliant-cut. Stripped of a crown to keep its design clean, Petite Promesse conceals a corrector on its case back. A twin calfskin strap wraps it around the wrist and glows bright orange, sky blue or "quilted" steel.
It's not every day that a brand chooses Beirut first to officially pre-launch a new release globally, so when I was invited to exclusively cover and celebrate this special milestone with Baume & Mercier the iconic Swiss watchmakers and one of my personal favorite luxurious watch brands, I knew I couldn't miss it.
A couple of months back I attended the inauguration of their first stand-alone store at Beirut Souks in partnership with Hagop Atamian. I was already familiar with the more classic 14 piece Promesse Collection, which encourage women to "hold a promise close to their heart while celebrating their unique individuality through their own timepiece." That's when there were hints of an even more new female-driven line was on its way, and on July 13th it had indeed arrived.
Baume and Mercier Petite Promesse, positioned as the smaller, more modern sister of the successful Promesse Collection, with an obvious homage to the brand's heritage, from the 1920s up until 1950s more petite, jeweled and decorative pieces which revolutionized the women's wristwatch at the time. It is a collection of 3 uncomplicated watches with a "little sparkle and a lot of panache."
They measure only 22mm, yet this time they come with many more promises as Baume & Mercier so articulately describes it. Promises to seize the day, live each moment to the fullest, to be a free, independent and accomplished woman, all of which I can really relate to. I had the pleasure of sitting down for a one-on-one with Baume & Mercier's very own Middle East and India Brand Manager Stanislas Rambaud who flew in especially for the launch. I was keen on getting to know more about these new variations and the idea behind the design.
Although he 's young, Stanislas is quite the seasoned luxury watch expert in the region, having started his career with IWC in the UK, he is now in charge of the entire Middle East and India portfolio. He is especially passionate about Baume & Mercier, as evident in both his enthusiasm and knowledge as he shared with me the philosophy and inspiration behind Petite Promesse and Baume & Mercier in general.
He explained how Baume & Mercier has long attained a strong emotional charge with its clientele, having successfully positioned itself as the celebration companion, with watches that serve as timeless reminders of the moments that make us the most happy and proud. It made sense to me. My mother tells me the story of how my father gifted her very first Baume & Mercier watch back in the 80's, to celebrate the start of his business kicking off in the UAE. Now every time she looks at it she is reminded of that special time in their lives, and how far a long they've come.
And although the new Petite Promesse have a timeless elegance to them, Stanislas explains to me how this is somewhat a new direction for the brand in terms of design and even color. He describes the collection as a celebration of style for playful, mischievous and powerful women, one that is directed towards a younger, more fun and fashionable clientele. I couldn't agree more. They caught my eye as soon as I spotted them.I had a favorite instantly which I tried on. The orange leather wraparound strap, set with 44 brilliant-cut diamonds surrounding the mother-of-pearl dial. Stanislas did not seem surprised. "This is for the spontaneous and creative women, who loves being noticed and is always on her feet from early morning meetings to evening functions, and her Petite Promesse will accompany her everywhere." That sounded a lot like me!
The second one, comes with a blue calfskin wrap-around strap with an elegantly subtle case set with two half-moons of diamonds. "She is a mischievous one" he tells me, "she is a natural born leader who always, always gets what she wants. People are just attracted to her" And finally, the third and final one from the collection, with a wrap-around bracelet in fine-chain polished steel,and 22 brilliant-cut Top Wesselton diamonds partially surrounding the dial. "She's accomplished and determined, with nothing to prove to anyone really, this watch is a symbol of her success, a constant reminder and promise of her charisma and ambition." Indeed it does. I would probably gift this to myself one day, as a reward for my hard work.
When I asked Stanislas why they had chosen Lebanon as an exclusive platform to launch this Petite Promesse he tells me it was a natural fit thanks to the special partnership and relationship Baume & Mercier has enjoyed for years with Atamian Watches. Stanislas also tells me about just how loyal the Lebanese clientele have been to the brand. "Lebanese are trendsetters in the region, there is no denying that, so launching this new trendy collection first in Beirut, just made sense to us. This is our promise to be there for them."