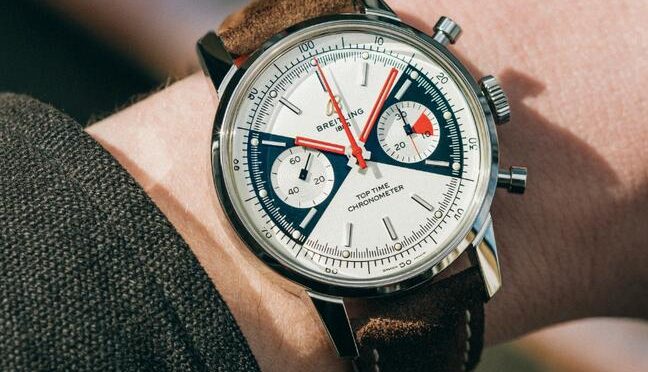 Breitling Premier Top Time has been on the march. It's hard to believe its been just 12 months since Mr. Kern (formally of IWC) and his team went in with the intention of accelerating its product development while simplifying its range. Having seen new additions to the air segment of its four worlds (air, land, sea, and professional) earlier in the year with the Navitimer 8, today In London I had the opportunity to get up close with the new Premier collection.
The Breitling Premier Top Time  launched back in 1943, and has always been focused on subtlety and elegance versus rugged functionality. This new collection is made up of a series of four core references in time only, day-date, and chronograph formats with an array of dials, from deep blue to sunburst silver: the B01 Chronograph 42, the Chronograph 42, Automatic 40, and the Automatic Day-Date 40.
Historically interest has been solely in its aviation and professional watches, but as this new collection proves, Breitling wants to "fish in a bigger pond," as Mr. Kern says. The new editions are clean and functional. Though not of the same dimensions as their predecessors of the early 40s, the new collection is more in line with current market demands (the B01 wears well at 42mm). The Premier B01 Chrono pictured below is the standout to me. With a twin register display and the well known, robust Calibre 01, this is a handsome looking watch. At $8,400 it sits in a competitive area in terms of price point, going up against the likes of IWC, JLC, and Rolex.
I have been super impressed with how the brand has updated its identity (digitally and in-store), its clarity of message and adjusted distribution (focusing on fewer, higher impact retailers). I believe the confluence of all these factors will provide a sound platform for the Breitling Premier Top Time collection to do well.