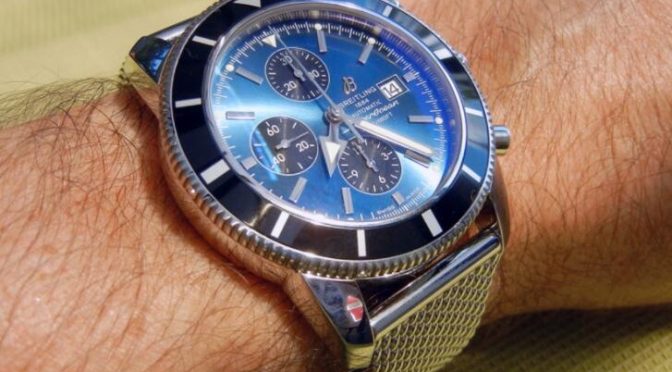 Before I review the Breitling SuperOcean Heritage Chrono 46 I'd like to discuss my own personal history with aviation and the brand. When I received my pilot's license many, many years ago, I invested in a couple of aircraft. In each of these airplanes was a box called an ELT or Emergency Locator Transmitter. This box was designed to detect a crash and send out a signal to SARsats orbiting the earth so that search and rescue teams could react. The ELT was about the size of a long battery and weighed about as much. It was, in a sense, mostly a battery with some electronics and an antenna thrown in.
I recall reading a pilot magazine and seeing an advertisement for a Breitling Emergency. What caught my eye at the time was the good looking case and the masculine presence of the watch. Then, I was aghast at learning that this wristwatch contained a fully functioning, water resistant ELT. I couldn't believe that they were able to reproduce that functionality in a package that fit under the cuff of a shirt!
Ever since then, I've been enamored with the brand. However, it's only recently that I've been able to spend time and money on beefing up my collection with other than a preponderance of fashion watches.
My first real luxury purchase was a Breitling SuperOcean Steelfish. Again, Breitling's technical prowess impressed the hell out of me. This watch was good for over 6000 feet of water pressure. Who needs that? Apparently I did!
I've always wanted to add a Breitling Superocean Heritage Chronograph 46 version of the brand to my collection and about six months ago, I fell in love with the look of the Breitling SuperOcean Special Edition Heritage model with a beautiful blue dial and black bezel.
The Breitling mesh bracelet is the nicest looking, well made piece of hardware that I own. Although the watch came with a blue leather strap, I doubt I'll ever use it. The bracelet is just that nice.
I love the homage to vintage Breitlings and the larger, more modern case size. The rich blue dial changes hues under different lighting. At times a deep blue and at other times, a reflective patina that adds a bit of bling to an otherwise mostly understated dial.
The date window is black numerals on a white disc at the 3 o'clock position and there are applied hour markers around the edge. There's a lovely little Breitling "B" in polished gold above the text on the right side of the watch.
There are sub dials for the small seconds, chrono minutes and chrono hours. I'm happy to report that the chronograph functions like you would expect from a Valjoux 7750. The minutes counter only advances as the seconds hand comes around to the top position. For some reason, I detest chronographs where the minute indicator starts moving before a complete minute has been attained. Are you listening Citizen?
Speaking of seconds, the chronograph seconds hand on this Breitling Superocean Heritage Chronograph 46 is in polished silver and is a little hard to see at times. There's no lume on the seconds hand. The hour and minutes hands are nicely sized and all it takes is a very quick glance to read the time.
Small pips at the top of each hour marker are lumed with the exception of those opposite the 3 o'clock and 9 o'clock markers. The 12 o'clock position contains a lumed triangle. But, the bezel indicators are not lumed so that more-or-less eliminates this watch from timing deeper dives (where visibility is poorer) using the bezel. Since we're on the subject, this watch is good for 20 ATM – 200 meters or 660 feet of underwater exploration.
Around the edge of the bezel are tiny screws whose purpose I cannot fathom. They may serve to hold the bezel against a track or perhaps used to adjust friction. More likely, they are decorative only. The pushers are a joy to use and engage with a nice solid feeling. The watch, of course, contains a screw-down crown which is signed with the usual "B." It's angled enough that it is quite easy to operate. As I mentioned before, I love the bracelet which contains a friction clasp….the only part of the watch I don't like. The flip-up friction overclasp is difficult to grasp and I often need a small metal object to open it up. Why Breitling continues to use this design is beyond me. A pushbutton clasp would be much more luxury oriented and be a valuable commodity to the bracelet.
The watch measures a nice (for me anyway) 46mm in diameter not including the pushers. It's a bit thick at 15mm but the convex base plate fits nicely into the wrist and it wears thinner than you would think. I can wear this watch with all my dress shirts including those with tighter French cuffs and links. The lug width is a pretty standard 24mm so finding other straps/bracelets to change up the look will be an easy task. As I've been wearing the watch fairly often, the photos do show my Breitling Superocean Heritage Chronograph 46 with a few signs of wear, especially on the clasp.
Have you ever bought something and then been upset because it doesn't live up to your expectations? This purchase was a bit like that for me. Let me explain. As I started wearing the watch all day at the office, I noticed that the time seemed a bit off after about four to six hours.
As a COSC certified watch, I really didn't expect to notice any rate issues without going to the trouble of testing the accuracy. So, I decided to test my casual observation of the lack of accuracy by performing some measurements. I found that the watch was fast by about fifteen to thirty seconds per day. Outside the accuracy limits of the COSC standard. I was disappointed, but it's something that can be regulated by a watchmaker. During transit or wear, watches can become de-regulated or slightly magnetized which can cause this to occur.
As many of you know, sending a watch like this in for repair is a royal PITA. You have to find the repair depot, prepare the watch for shipping, cart the whole thing over to a courier, pay for the shipping, pay for the insurance and then wait, and wait and wait.
Well, I lucked out. I happened to be on Catherine Street in Montreal one day and found a boutique called La Swiss featuring Breitling and a few other brands. They took care of everything for me and about three weeks later I got the call saying the watch was ready.
Happy to report that it's now my most rate accurate automatic, keeping excellent time. How the watch became so badly adjusted in the first place I'll never know.
From an attire perspective, the watch works great for just about every occasion. It looks good with jeans and a t-shirt, suit and tie and I guess, with scuba gear.