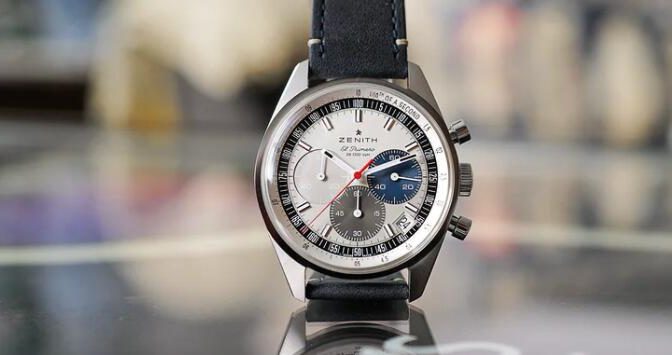 Nineteen sixty-nine was a busy year. Astronauts took watches to the moon, Richard Nixon was elected the 37th President, and the first-ever Woodstock rocked the socks off of some 350,000 hippies. Over in the watch world, Zenith released its now-iconic El Primero A386, a horologically significant, automatic chronograph with a colorful design that couldn't be more '60s if it tried.
Since then, Zenith El Primero Original Stainless Steel Diamond has had something of a wild trajectory. It suffered, badly, during the quartz crisis, but was fortunately one of the brands able to emerge from the ashes. Why? Well, because it made pretty much the best self-winding chronograph caliber out there, and when you're the best, things have a way of working themselves out. That mechanical prowess notwithstanding, Zenith's A386 was a distinctive and flashy design that stood out in a sea of monochromatic offerings from a number of brands of the day.
As the years have gone by, Zenith has not forgotten the importance of that reference, and has continued to iterate on it time and again. It's made limited edition tributes to the A386, with the same case sizing and similar dial design (and coloration), but those would often feature precious metal cases, where the original was crafted from stainless steel. If the tribute releases were in steel, the sizing would come in at 40mm or above where the original was an oh-so-sweet 38mm. It became a real Goldilocks conundrum.
In June of this year, Zenith changed all of that – sort of. Instead of reissuing the A386, the brand unleashed a watch effectively identical to the original but boasting an entirely modern movement, proving that it hasn't lost its touch in the movement department (not that any of us thought it had). In many ways, such an update, both internally, and stylistically, is the perfect tribute to a watch that, in 1969, was years ahead of its time.
I am talking about the new Chronomaster Original in the tricolor configuration with Zenith's in-house hi-beat 5Hz chronograph movement, and 1/10th of a second timing functionality. It's the spiritual successor to the A386, it comes in steel and, wait for it, it's 38mm in diameter. The moment this watch was announced, I knew I had to get my hands on it and once I got my hands on it, I knew I needed to spend some time with it … a week, perhaps.
A half century down the line, Zenith is still finding ways to keep the A386 alive and interesting, with limited editions and tribute models. Today's release of the Chronomaster Original is particularly interesting because it's not limited, and it's exactly what the enthusiast base asked for. It might be the most important A386 model to come out since the original dropped in '69.
The A386 Revival in 2019 was practically a facsimile of the 1969 original, but was rendered in three precious metals and has long been sold out. There were only 50 pieces in each metal: Yellow gold, white gold, and rose gold. If you wanted the A386 with the original colorway in 38mm, you had to have the watch in precious metal. There was the manufacturer edition in 38mm, but that wasn't entirely true to the one original A386, as it offered a dial that featured a trio of blues instead of the original grey-black-blue. The El Primero celebrated its 50th birthday in '19, so the three gold takes made celebratory sense.
But now, at last, Zenith has made three standard production offerings that speak directly to enthusiasts. The headliner is the Chronomaster Original, sized at 38mm, in stainless steel with an instantly-recognizable grey, black, and blue tri-color dial. Zenith has also dropped the same watch in a rose gold case, and another dial option – an incredibly handsome reverse panda dial that's black with silver sub-registers.
Although heritage has always been a cornerstone of Zenith's long-running El Primero chronograph series, in recent years the brand has redoubled its commitment to authenticity and historical accuracy for vintage-inspired El Primero models. So far, this effort has been a solid success for Zenith, with a wide variety of faithfully sized reissues of early El Primero references bolstered by a mix of new modern colorways and reinterpretations. However, until now this Chronomaster Revival sub-brand has primarily focused on the tonneau-cased A384 and A385 designs introduced in 1969, while mostly neglecting the third core model in the original El Primero family. The brand's latest release changes that, bringing the more traditional A386 case design into the permanent Chronomaster Revival collection with a trio of handsome new references. The new Zenith El Primero Chronomaster Original series offers perhaps the most compelling addition to the collection thus far, delivering the most iconic El Primero design in a faithful 38mm rendition along with a pair of charismatic reimaginings while boasting the brand's modern movement-making prowess.
All three models in the new Zenith El Primero Chronomaster Original line follow the same 38mm case design. This is an impressively accurate rendition of the original A386 design introduced in 1969, with the same deceptively simple form. The lugs are the real highlight here, wide a wide gradually tapering form and wedge-cut pointed tips that help to accentuate the sharpness of the form in images. Despite the apparent simplicity, these lugs are a showcase for Zenith's intensive and exacting finishing, with radial brushing along the lug tops given shape by a flowing outer chamfer and matching mirror polished case sides. In larger iterations of this case, the stark and dramatic undercut of the lug tips helps to visually compact the design to smaller than expected proportions, but with an already compact 38mm diameter this may lead to the watch feeling too minute on the wrist for some. The rest of the case design also follows the classic 1969 pattern, with a paper-thin polished bezel and piston pushers. Other than modern fit and finish, the only major departure for these new models is the sapphire display caseback. Two of the three variants render this classic form in stainless steel, while the third adds a layer of luxurious masculine warmth with 18k rose gold.
Zenith uses the recently introduced in-house El Primero 3600 automatic chronograph movement for all three models in the El Primero Chronomaster Original line. Beyond the previously mentioned central chronograph hand and unique layout, this fully modernized descendant of the original El Primero movement sports a lateral clutch,Zenith El Primero Original 1969 Watch Review. November 9, 2015. by David Bredan. Not all chronographs are created equal – and if there ever was one to rightfully claim to be superior to at least most of the others, then that's the El Primero caliber. The Zenith El Primero Original 1969 watch,