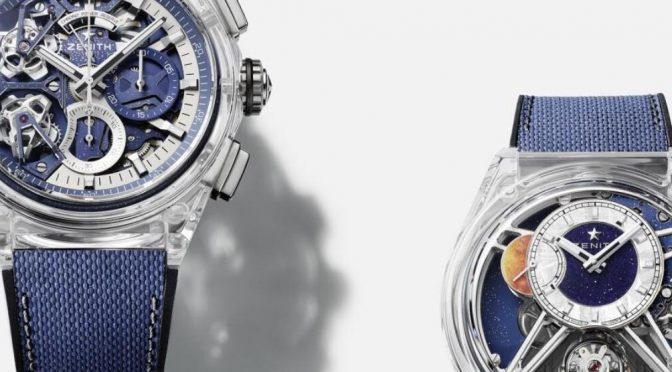 Zenith's two latest timepieces aren't just one-of-a-kind masterpieces — the new limited-production editions come with a once-in-a-lifetime opportunity. The 46 mm Zero Defy 21 Tourbillon Sapphire and 46 mm Defy Zero-G Sapphire both come with transparent cases that put their movements on full display. Each of the 150 units will also come with a parabolic flight courtesy of Novespace in Bourdeaux, France. Consisting of 15 passes, each passenger will experience zero-g flight, going weightless for over a minute each time. Zenith has constructed the Defy chronographs to perform flawlessly, even without gravity. The Defy Zero-G's Gravity Control movement contains a gimbaled regulator that allows for precise timekeeping no matter the position or shock load. A dial made of meteorite and aventurine glass reveals a hand-painted face with starscape, Mars in the small seconds display, and a moon-like texture. Each watch is limited to just 10 units
Zenith has been working recently on becoming a watchmaker that plays the big boys at their own game (and often wins). They recently released the Defy Extreme Desert edition, which looks better than a Royal Oak Offshore Chronograph, has a horologically superior movement, and costs less than a standard Offshore. Now, Zenith is back again to prove it's still on the up and up. Let's take a look.
The first model is Zenith's Defy Double Tourbillon, an impressive watch now with a new case made from sapphire crystal. It's a big ol' beastie at 46mm, but it's packed full of horology. It uses the in-house made calibre El Primero 9020, which has been primarily PVD coated in blue with stars added on both sides for dramatic effect. Of course, the most drama is going to come from the two tourbillons, one of which is running all the time while the other comes into play when the chronograph is used.
You see, this is a watch of two movements. One is a simple 5Hz time-only affair with a 50-hour power reserve and automatic winding, a korma on Zenith's scale of movements. The second is a hand-wound vindaloo of madness with a 50Hz beat rate and a crazy 1/100-second accuracy providing more excitement than I suspect actual use. The chronograph is immensely accurate, although far too power-hungry to be used constantly. I wonder how durable it would be if run all the time.
Despite the franticness of the chronograph attached to the Defy Double Tourbillon, I can't help but feel the Zero G is the more interesting of these two. The point of the Zero G is to do what a tourbillon does for a pocket watch but in three dimensions, and also without the tourbillon. As I mention in nearly every tourbillon article I do, the relevance of a traditional tourbillon can be described as moot at best. While a pocket watch generally sits in one position, vertical, a wristwatch is moved around all over the place. Several watchmakers have come up with unusual ways of making a tourbillon work in all three dimensions, but Zenith's approach is rather remarkable. It ditches the idea of the tourbillon altogether and instead mounts the entire escapement assembly in such a way that it is always in one position, no matter what position the rest of the watch is in.
So, what does that make for its precision, surely it's Chronometer rated especially at this price point, right? Well, no. Like the Defy 21 Double Tourbillon, Zenith is making so few of these (ten in total) that it's probably not worth the extra hassle of getting these sent of the COSC that's assuming the COSC is able to test a watch with an escapement assembly like this. What'll hopefully catch your eye instead is the relaxed nature of this piece. It's not a kamikaze of components. Apart from the escapement, there isn't a lot happening—applications of meteorite and aventurine with the same starry sky PVD dial class the place up a bit. And, of course, the 46mm sapphire crystal case allows the watch's constructional architecture to come to the forefront.