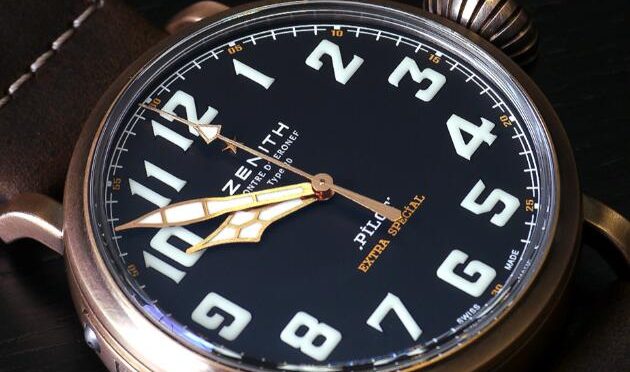 There is always – and I mean always – room in our lives for additional cool and funky sport watches. What do you think about a 45mm-wide vintage-looking pilot watch from a major brand with an in-house made movement and a cool bronze case? That's the new-for-2015 Zenith Pilot Type 20 Extra Special Bronze watch.
We liked this Zenith Pilot Type 20 Extra Special Bronze so much, we included it back in our Top 10 Watches of Baselworld 2015 article here. Why? Well, even though there isn't too much "new" about this timepiece, it is a very successful combination of elements that a lot of watch lovers have been into lately. You also have a situation here where a major Swiss watchmaker once again shows that it has been paying close attention to what enthusiast watch collectors as well as smaller brands have been doing.
Bronze is a weird metal that was never traditionally part of the luxury watch experience, given the metal's tendency to quickly oxidize. Now, the precise reason why bronze was historically not a good watch case material is why it is popular today. The enthusiasm for vintage looking timepieces has made the idea of a new watch – with a modern movement and construction – that looks like an antique appealing. Yes, it is fashion, but that is why we don't wear boring watches.
Bronze started to enter the luxury watch space when the Gerald Genta brand (which has since been incorporated into Bulgari) released the extremely cool and avant-garde Gefica collection (review here), which used bronze cases with titanium elements. The bronze was meant to quickly "patina," meaning that each case would rapidly show case discoloration – in a unique way. This tendency for the metal to change colors made it interesting. More so, bronze is not a precious metal, so it had a different look from steel, but was not inherently more expensive.
Since the Gefica, a number of small watch makers presented watches in bronze – most notably, Anonimo. Today, even larger brands like Zenith and Panerai are offering select timepieces in bronze. To my knowledge, the Zenith Pilot Type 20 Extra Special Bronze is the first one from Zenith.
You need to understand the difference between the earlier Zenith Pilot Type 20 Extra Special, and the 2015 Zenith Pilot Type 20 Extra Special Bronze. These are rather different creations when you look at the details, and should not be confused with one another. In around 2014, Zenith made the potentially nearsighted decision to produce an "entry-level" priced version of their popular Pilot Type 20 collection using a Swiss Sellita movement. The brand known for in-house made movements and the famed El Primero suddenly decides to make a watch with a sourced movement? Well, don't worry, that decision didn't last long, and Zenith's management quickly realized that all Zenith watches needed to have in-house made movements.
So, in addition to the new bronze case (versus steel from the previous model), the 2015 Zenith Pilot Type 20 Extra Special is finally "special," meaning that it has a manufacture movement inside. That movement isn't an El Primero, but the still decent Zenith caliber 679 "Elite" automatic movement that operates at 4Hz and has a power reserve of 50 hours. I also like the very clean execution of the dial which does not include a date indicator window. This means that the pure symmetry of the dial is not disrupted by a date window. Sure, having the date is a welcome feature, but a lot of watch lovers these days are choosing to give up date windows (when they come across the right watch) and the corresponding functionality in exchange for aesthetic considerations.
At 45mm wide, the Zenith Pilot Type 20 is not a small watch, but it isn't insane either. Anyone who has a penchant for larger timepieces will appreciate the style. More so, the slightly vintage style of the dial as well as (of course) the case make the watch look better in a large diameter. The 45mm-wide case is also 14.25mm thick with smaller lugs, so that it doesn't wear too large on the wrist.
What we feel that Zenith did really well in a watch like this is to assemble a series of design elements together in a single piece that is very harmonious and desirable. Of course, the sporty elements and super-lumed dial with all that SuperLumiNova and ultra legibility make for a wonderful sport watch and daily wear. What I like so much about the larger Zenith Pilot watch collection is that it has some serious personality. These are big, bold timepieces for confident people who aren't about showing off, but are rather about wearing an extension of their personality on their wrist.
The Zenith Pilot Type 20 Extra Special Bronze case is water resistant to 100 meters, and while mostly in bronze, the caseback is in engraved titanium with that cool Zenith plane motif. Titanium is a better caseback material because bronze doesn't always react to people's skin so well (unless you like your skin to turn a bit green).
Attached to the watch is an "oily nubuck" leather strap with a black rubber lining and a titanium buckle. Overall, this is a cool and simple timepiece which is both easy to understand but also depicts some of the more interesting trends we see in how people are enjoying their higher-end watches. Price for the Zenith Pilot Type 20 Extra Special Bronze