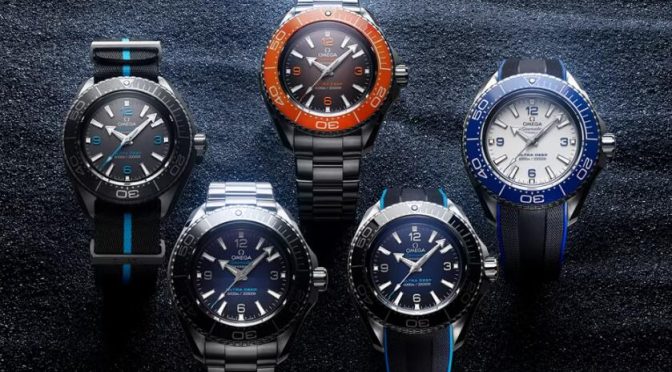 Remember back in the summer of 2019 when Omega showed off the Omega Seamaster Planet Ocean Ultra Deep by strapping it to Victor Vescovo's submarine and letting it play Second Mate for a trip down 10,928 meters – that's a hair over 35,853 feet – to the bottom of the ocean? Well, now you can get your hands on the civilian version of the Planet Ocean Ultra Deep. But don't let "civilian" fool you: The new Omega Seamaster Planet Ocean Ultra Deep is a serious performance piece that can handle serious pressure, including that of being Omega's latest flagship dive watch.
While the original concept version that toured to the bottom of the ocean on the Limiting Factor (that's the name of Vescovo's submarine) was a massive chunk of titanium measuring 55mm across and some 28mm thick, the new Ultra Deep, which is available in titanium or a brand-new steel alloy called "O-MEGASTEEL", measures 45.5mm wide and just 18.12mm thick.
In exchange for those still considerable proportions, the Ultra Deep (in either material) is rated to a depth of 6,000 meters, or just shy of 19,685 feet, with ISO 6425 certification via METAS and a design that allows for saturation diving without the need for a helium escape valve. Those deep-diving specs required a considerable amount of technological development from Omega, including four newly pending patents concerning the crystal, crystal gasket, crown, and two-piece caseback.
Starting with the titanium version, the Ultra Deep retains several hallmarks of the record-setting original design. The production version is made from sandblasted grade 5 titanium and uses an asymmetrical case (to aid in crown protection), a ceramic bezel insert with liquid metal scale, a titanium dial with blue Planet Ocean-style accents. Just as we saw with the concept version, the Omega Seamaster Planet Ocean Ultra Deep has "Manta Lugs," which are similar to channel lugs (like those seen on the recent Tudor Pelagos FXD). As such, the Ultra Deep Titanium is only compatible with NATO-style straps and Omega includes a black/blue number that is made of 100 percent recycled materials and features titanium hardware.
The Ultra Deep Titanium's caseback is closed and uses a two-piece design for maximum water resistance. Despite being ISO 6425 compliant and pressure-tested with a machine that had to be developed in-house, Omega also pressure-tested the Ultra Deep Titanium in a real-world environment by taking a production example to a depth of 6269M over Mariana's Trench in the waters due north of Papua New Guinea.
As for the steel Ultra Deep, Omega is producing some 6 references at launch and while the specs are similar to that of the titanium sibling, the steel versions have a symmetrical case with traditional crown guards and buyers have the option of a rubber strap or a full steel bracelet. In total, there are three different colorways, including a blue gradient dial with a black bezel, a white dial with a blue bezel, and a black-grey gradient dial with an orange bezel. Each is offered with either a full steel bracelet or a rubber strap.
And it's not just any steel – it's "O-MEGASTEEL," a proprietary alloy five years in the making that is 40 percent to 50 percent harder than 316L steel while also offering a yield rating that is more than double that of conventional stainless steel (which is a measurement of how much stress a metal can take before it's permanently deformed). According to Omega, a 316L watch of this size would not be capable of such depths. Omega Steel allows the case and caseback to withstand the pressure in a manner that matches the performance of titanium. In addition to the technical specs, O-MEGASTEEL is also whiter in color and carries more of a shine than other steels commonly used in watchmaking. The bracelet is a new design, as well (compared to those seen on previous Omega Seamaster Planet Ocean Ultra Deep models) and the clasp features a push-button six-position micro adjust with 2.3mm of extension. Unlike the original design, these models do not use the bonded liquid metal gasket for the crystal but rather a more service-friendly design with a patent-pending gasket execution that helps manage all of that pressure. In ISO 6425 overpressure testing, the crystal of the Ultra Deep is under some 7.5 tonnes of pressure so the crystal has to be defect-free or it will fail. To combat this need for a perfect crystal, Omega has opted to use an Edge-defined Film-fed Growth (EFG) sapphire crystal of excellent quality that is also finished on both sides with an anti-reflective treatment.