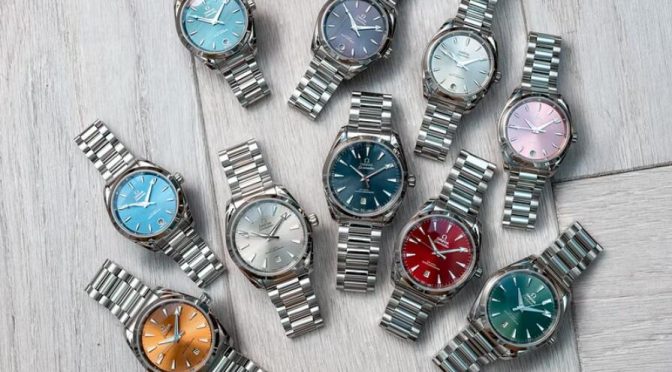 In continuing to take a closer look at what Omega launched last week in Miami, I'm happy to say that it's not just impressively overengineered dive watches and gold Speedmasters (not that I'm complaining). Omega also launched two new ranges into the Aqua Terra family that offer a somewhat simplified take on the brand's generalist sports watch while leveraging a wide range of newly colorful dials for a distinctive appeal.
As Logan did a lovely job introducing these new models last week, I can only hope to add some, well, color. In total, we're looking at 10 new SKUs, with five colorways for both the 34 and 38mm sizing. To make things a bit easier, here are the colors offered for each size along with the color's name from Omega (I do love a good color name).
Let's get some quick specs out of the way, shall we? Both sizes have dates at six o'clock and use Omega's automatic Co-Axial Master Chronometer Caliber 8800, which is certified by METAS and runs at 3.5 Hz with a power reserve of 55 hours. Both sizes are water-resistant to 150 meters, have sapphire crystals front and back, and come fitted to matching steel bracelets.
Sizing for the 38mm is 12.26mm thick and 45.1mm lug to lug, and the 34mm shrinks that slightly to 11.88mm and 40.49mm lug to lug (praise be to all brands that include these measurements). For those of you who might want to match a punchy strap with your dial color of choice, lug widths are 19mm for the 38mm case and 16mm for the 34mm case.
Of the two new ranges, the 38mm is the most like the Aqua Terras we already know. While both of the new sizes have been presented without the Aqua Terras' usual teak-effect dial, the 38mm does get the pointed rhodium-plated markers common to the larger Aqua Terra models. While this isn't the first time Omega has made a 38mm Aqua Terra, it is a new "less is more" way of thinking about the aesthetic, and the outcome largely hinges on the dial coloring.
Some of the iterations feel more subtle and straightforward (blues, greens, sandstone), especially if you're used to the more fanciful and complicated teak-effect dial designs found on past models and through much of the current 41, 38, and 34mm versions. In contrast, some of the more vibrant colors, such as Terracotta, Lavender, and Saffron, offer a charm that feels new to the Aqua Terra line.
On wrist, I can't imagine anyone with a preference for a sub-40mm steel watch to have much in the way of complaints about how the 2022 Aqua Terras wear. The case sits low against your wrist but still has enough bulk to feel sporty and to support the intent of the 150m water resistance. Paired with the newly-designed bracelet, it's a strong match that feels accessible, casual, and very wearable.
As I mentioned on a recent episode of Hodinkee Radio, for both the 38 and 34mm sizing, it's nice to see that Omega didn't cut any corners, despite the new Omega Aqua Terras being smaller than the line's usual core offering. Both models get a great mechanical movement, an excellent bracelet, proper water resistance, and the same level of attention to detail that the brand puts towards their core models. I think this execution speaks to the faith that Omega has in these two new models and their ability to offer direct competition to watches like Rolex's Oyster Perpetual.
With thin rounded links and a polished center element, the 38mm's bracelet tapers from 19mm to 17mm at the butterfly clasp (16 to 14mm for the 34mm models). Comfort is excellent and visually, I think they've managed to make the most of a few tweaks and the result feels like a perfect match for these new models.
This is the same for the 34mm, which is presented in somewhat more traditionally feminine colors (pink and purple) but is specifically not being gendered by Omega. To that end, the 34mm Sandstone Aqua Terra was Nick's preference and it certainly looks right at home on his 6-inch wrist.
Aside from distinct colors, the 34mm is differentiated by 18k white gold oblong-shaped markers meant to invoke the footprint of a boat's hull. And where the 38mm has a simple rectangular cut-out for the date at six, the 34mm models have a circular aperture that is finished with a small metal border (making it the stronger date execution of the two, in my eyes).
Really though, the main story here is the color. Omega delivers a wide range of options with a really specific application of color that doesn't rely on raw saturation, but rather on how the color works in conjunction with the dial's sunray finish.
With the exception of the 38mm Terracotta dial, all of the dials are made of brass that has been PVD-treated for the color and then lacquered. The Terracotta dial uses CVD (chemical vapor deposition). Regardless of the process, the final effect is a lovely rich color that has a glassy effect while still maintaining the quality and charm of the sunray finish.
The Terracotta is striking and rather moody, where the blues and greens feel very much within Omega's wheelhouse. Finally, the pastel colors are bright and airy, but not in a cartoonish way. In what seems like a direct response to the colorful Oyster Perpetuals launched in 2020, Omega has added color to these Aqua Terras in a manner distinct from that of Rolex.
The consensus among anyone I have spoken to who has seen these new watches in person is unanimous – these are going to be popular and they bring the Omega Aqua Terra line into a new – and thankfully easy-to-understand – phase. They wear beautifully, communicate the core of Omega to a wide range of wrists, and the new colors are like catnip for Instagram likes. While the generalist appeal of the Aqua Terra and the Oyster Perpetual lines is clearly quite similar, I think these Aqua Terras manage to feel like proper Omega creations and are different enough to stand on their own as strong entry points to the brand. Having seen both offerings in person, I'd say it's similar cuisine to be sure, but a distinct recipe. I highly recommend swinging by your local Omega retailer to see these in person when they start to show up at retail over the coming months. While neither 34 or 38mm sizing are new to the Aqua Terra, this new execution is more subdued than past iterations and it makes these new models into a more versatile option, which feels like a good development for the multi-talented Omega Aqua Terra line. With the new range of colors, the updated bracelet design, and the broad appeal of the new design, I'd argue that the Aqua Terra has never looked better or offered a wider appeal.