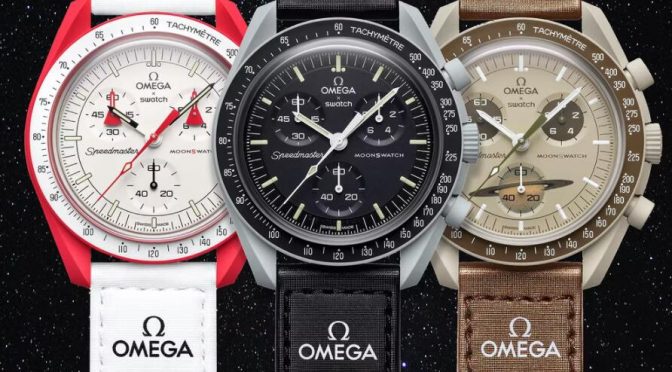 Omega and Swatch have both been teasing a super-secret project for a little under a week now, taking out full page ads in The New York Times with taglines reading "It's time to change your Swatch," or "It's time to change your Omega." Nobody knew what that meant, until yesterday.
The super secret is out, and now we have the MoonSwatch in our lives. And what is that? Well it's basically an Omega Speedmaster Moonwatch, but Swatchified. Instead of a stainless-steel case the MoonSwatch is made from Swatch's BioCeramic, which comprises a mix of ⅔ ceramic and ⅓ bio-derived plastic using the seeds of a castor plant. Nobody really knows what that means, but it's provocative and it gets the people going.
In all, there are 11 variations of the new MoonSwatch – effectively, 11 colorways – that each correspond to a specific planetary object. Each version is called a "Mission," so there's Mission to Mercury, Mission to the Moon, Mission to Mars, and so on. Theres's even one called, um, Mission to Uranus.
Each combination is unique to the heavenly body it represents. Mission to Neptune features a full blue aesthetic (like the planet) with a contrasting blue dial, and a very blue case. Mission to Earth uses the green of its continents to inform a green case, coupled with a blue dial and brown hands. Some (like Mercury) are more conservative in design, while others (like Mars) use spacecraft-like objects for hands, or (like Saturn) integrate images of planets into the subdials.
Speaking of planets, each model utilizes a pretty creative solution to cover the battery (yes, these are quartz-powered) by way of an image of the planetary object from which it takes its name.
The dial design is not a carbon-copy of a Speedy. Unlike the Moonwatch, the Omega Speedmaster Moonwatch wordmark is positioned on the left side of the dial, and the MoonSwatch lettering is on the right. The watches are co-branded both at 12-o'clock on the dial, and on the signed crown. There's even an etched "S" on the crystal where the Omega logo usually is on the hesalite Moonwatch.
Additionally, every watch comes equipped with a flight-style velcro strap with dual Omega and Swatch branding. The watches are priced at $260. There is no information about these being limited, but they will only be sold in select Swatch stores around the world, beginning March 26.
Well, if I were ever to imagine what a Swatch Speedmaster would look like … this is pretty much it. I can't recall two giant brands ever collaborating in this way before. It makes a little more sense when you consider they both exist under the broader Swatch Group umbrella, but still. This is really something. Corporate synergy at the highest level.
In creating this collab series, Omega Speedmaster Moonwatch and Swatch stayed faithful to the Moonwatch case design with its twisted lugs, 42mm diameter. They even threw in the dot over 90 Tachymeter bezel.
All of that begs the question: What is this? And why is this? Alright, that was two questions. Still, pretty much nobody had this on their list of watches to expect this release cycle. Or ever. One way to think about it is as an extra-fancy Swatch that serves as a gateway to finer mechanical horology. Another is as a sub-$300 Speedy. After all, in addition to case proportions, these watches feature recessed subdials and SuperLumiNova treatment. It's sort of fascinating when you think about it that way.
Sure, it's basically a plastic watch (yeah yeah, BioCeramic), but its quartz movement obviates the need to wind – and especially to manually wind. Of course, there are drawbacks that play into this price bracket, such as the shallow 30m of water resistance and the overall level of dial finishing compared to a $6,000 Moonwatch. I reckon many buyers can look right past these drawbacks when they see the $260 sticker. That's a great price for something playing off the iconic design of the Speedmaster.
I happen to really like the Mission to the Moon model because it is almost a 1:1 copy of the real thing. There's something intellectually exciting about wearing a Speedy Pro made by Swatch. Instagram is already aflame with commentary from enthusiasts who are frantic to get their hands on one. And there are still two days to go before this lands in select Swatch stores around the world.
Judging by the excitement online surrounding this release, I can very well see a great many collectors going on their own missions to track down these watches. Even if you're able to secure all 11 models, that's still more than $3,000 savings over a single Moonwatch – not bad.
I, for one, don't love all of the models enough to go on a "gotta catch em' all" Pokemon-style hunt. Standouts are surely the Mission to Mars with its deep red case, and spacecraft-shaped hands. The Mission to the Sun is equally loud and impressive with its yellow case and sunray (I see what they did there) dial.
The Mission on Earth model feels a bit off to me. Something about the mixture of green, blue and brown – while on the nose – just doesn't produce a particularly pleasing design. I'm also not the target audience for the Mission to Venus watch – and not because it's pink. I think we have pretty well established here on HODINKEE that watches should be (and in many ways are!) moving to a genderless future. So it's a drag that both Omega Speedmaster Moonwatch and Swatch saw the need to accessorize the pink variation with what they call "a touch of feminine elegance," via subsidiary dials accentuated with diamond-like details. But I digress. Even if you don't like Earth and Venus any more than I do, you still have nine others to choose from. That's nine more than anybody ever expected. In the end, these are undeniably interesting watches that present an affordable entry point into iconic watch design from two blue-chip brands with heritage. It is pretty unprecedented to see a company like Omega democratize a core watch like this to make it so affordable, even if it took a co-branded endeavor to get there. Better line up now at your local Swatch retailer, because these interplanetary collaborations are going to sell at the speed of light.