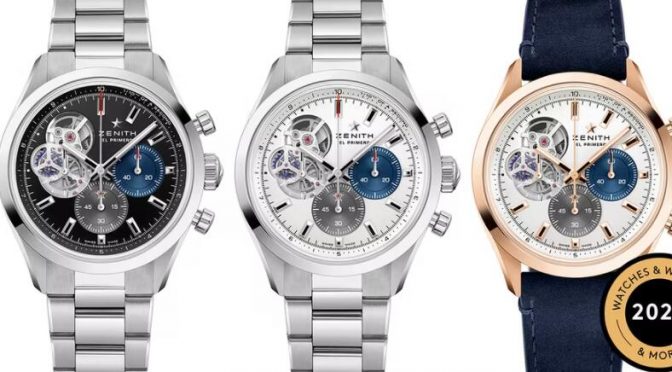 The Zenith Chronomaster Open made its debut back in 2003. With the partially open-worked dial, the watch offered a glimpse of the El Primero movement within. It was an instant hit. Now, Zenith revisits the concept with the introduction of brand new 2022 take on the Chronomaster Open!
The 2022 Zenith Chronomaster Open features a case of 39.5mm. The dials feature the well-known tricolor sub dials, but now with the signature cut-out at between roughly 8:00 and 11:00. The look may be familiar, but the case is completely redesigned – sleeker, with slimmer lugs and more pronounced bevels. And the movement within? That too is entirely new. Beating away inside is the El Primero 3604. Being a modified version of the El Primero 3600, this of course features the amazing 1/10th of a second chronograph.
All in all, the new Zenith Chronomaster Open feels like a successful translation for Zenith of its fresh 2020s design language onto one of its biggest success stories of the 2000s.
While I didn't necessarily expect a Chronomaster Open update coming into Watches and Wonders this year, it sure makes sense for Zenith to complete the transformation of the Chronomaster collection and fully extend the caliber 3600 throughout the line. The Chronomaster Open has been too popular for too long for Zenith to leave it stuck in the last generation (which dates to the tenure of Jean-Frederic Dufour, now head honcho at Rolex, as CEO).
Although the Chronomaster Open has long been a commercial success for Zenith, it's never been a favorite of more conservative watch collectors, myself included. The "open heart" trend of an exposed balance wheel is one that Zenith (and Nataf) helped pioneer in the Swiss watch industry, which is noteworthy in itself. But since the Chronomaster Open first came to market, it's been followed by countless copycats that have often produced forgettable designs.
Almost 20 years after the Zenith Chronomaster Open line first found success, the exposed balance wheel act is no longer an especially novel or enticing inclusion on a watch. And yet, I expect Zenith will still find a large audience for this release. One of the reasons Zenith was originally drawn to the idea of opening up a window into the beating heart of the El Primero was to provide its owners and customers with a way to visually comprehend the movement's high-beat nature. The window on the Chronomaster Open is just another tool to bring the owner of an El Primero even closer to what makes his or her watch special.
Romain Marietta, the Head of Product Development and Heritage Director at Zenith, has worked at Zenith for the past 15 years and knows better than most of the Chronomaster Open's tendency toward attracting divergent opinions.
"It's a very magnetic piece: You either like it, or you hate it," he says. "Some people say it's just a hole in the dial, and that it looks a bit cheap, or that it looks like a tourbillon. It's bringing new customers to the brand who fall in love with the aesthetic; because the aesthetic is quite different, so I can understand that people either like it or hate it. It's very consistent with the message of our brand as being the master of chronographs, the master of high frequency, through being able to see the escape wheel working faster than all others."
Even if I can't bring myself to love the specific style of watch, I can understand how the constant kinetic action might draw someone in and keep them there for good. It's a similar concept to Jack's recent argument for including exhibition casebacks on watches of all price points – why shouldn't we showcase the gizmos that make our watches work? They are pretty cool, after all.
And on the Zenith Chronomaster Open, I can particularly appreciate how it places Zenith's star-shaped silicon escape wheel on full display. I've praised this specific little gear plenty of times before, but I adore it and always seek it out whenever I handle an El Primero – to me, there's not a cooler, more on-brand gear in all of watchmaking.
Although it might not be to my personal tastes, I can still honestly say I'm glad the Zenith Chronomaster Open has been refreshed in a smart and authentic way, just so that it can continue to bring more and more people into mechanical watches as a whole – something it's been doing for close to 20 years without interruption.