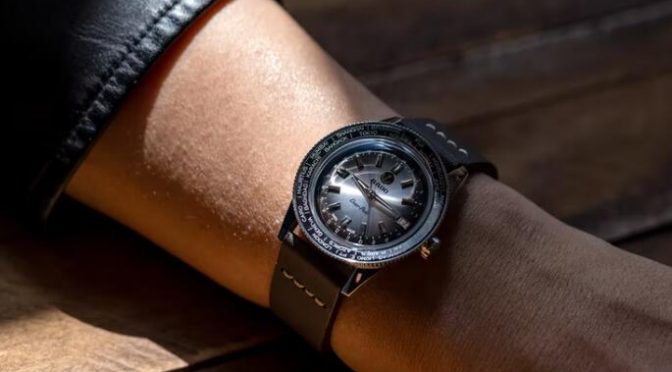 It's been five years since Rado revived its original vintage dive watch, the Captain Cook. What was once a limited-edition release in a 37mm case has since become an expansive line-up of watches, offered in a diversity of case sizes, materials, and dial colors. Earlier this month, Rado announced the most impressive expansion in the Captain Cook family yet – the Over-Pole Worldtime.
Originally, the Over-Pole was an offshoot of the original 1960s Captain Cook, sharing the same case profile and water-resistance rating, and the new-for-2022 Rado Captain Cook Over-Pole is similar in that way. In addition to its classic good looks, the new Over-Pole offers an interesting and affordable take on the world-time genre that fits neatly within the company's steadily growing catalog of vintage-inspired designs. So much of what makes Rado an interesting watchmaker today is tied in with the company's progressive use of materials and design, but a watch like the Over-Pole is engaging for an entirely different set of reasons.
I've been a fan of the Rado Captain Cook Over-Pole watch since it debuted in 2017. In fact, it was the first four-figure watch I ever owned; I treated myself to the watch after undergrad. I was already working in watch media at the time, so a watch seemed like an appropriate thing to gift myself. I found the skin-diver-adjacent aesthetic to be ever-so-slightly more appealing (not to mention a better movement and more premium materials) than similarly priced watches.
Five years later, my diminutive 37mm Captain Cook makes its way to my wrist a few times every month – the concave bezel and whirling, twirling anchor logo haven't ceased in their charm. And yet, I will admit that I did find my interest in the collection somewhat waning, after years of successive releases that only diluted what, in my mind, was the purity of the original limited-release product.
The Rado Captain Cook Over-Pole is a bit of a course correction in that regard. It revives a little-known vintage watch with a cool vibe and genuinely interesting functionality. It even remains in the same charming 37mm format that captivated Jason Heaton, with an 80-hour power reserve and a sapphire crystal exhibition caseback.
As far as I can tell, the original watch was automatic so the decision to go for hand winding is unexpected but welcome. I think neophyte collectors and most dyed-in-the-wool enthusiasts can appreciate a display caseback on a hand winder – even if the "kissing seahorse" engraving on the Captain Cook's solid caseback has always been endearing. The decision to remove an oscillating weight that would have enabled automatic winding might have been to reduce thickness – at just 10.3mm in height, the Over-Pole is impressively svelte. The lug-to-lug is also a reasonable 43mm. It's also worth mentioning that this is a 12-hour movement, which means the world-time display operates through a combination of the laser-engraved city-scale on the ceramic bezel insert with the 24-hour markers situated on the outside of the 12 applied and interestingly faceted hour markers on the dial. Simply align your current time zone on the bidirectional bezel with your hour hand and you'll quickly be able to indicate the time in any of the 24 selected time zones, in one-hour offsets. I appreciate how the Over-Pole maintains the easy-to-grip serrated bezel edge as the standard-issue Captain Cook.
Although it's always possible Rado will follow up this inaugural release with an unlimited production run in a variety of colors like they did with the original 2017 Captain Cook, the dial on this limited edition is no slouch – it has an interesting gradient aesthetic that transitions from grey in the center of the dial to black at its periphery.